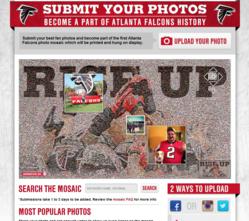 Our Social and Interactive Platform 5.0 was a perfect fit for the Atlanta Falcons and allowed them to unite fans in a fun and meaningful way.
Blue Bell, PA (PRWEB) March 08, 2013
One of the most common questions for sports teams and brands alike is: How can we get all of our fans and consumers united in one meaningful, social, and interactive way? Enter Picture Mosaics' new Social and Interactive Photo Mosaic Platform 5.0.
From the Fenway Park 100th Anniversary Mosaic to the Falcons Rise Up Mosaic to the American Diabetes Association Mosaic, this new photo mosaic platform was used to bring fans and supporters together. The built in viral and social nature of each of these mosaics were paramount in making all of these campaigns a huge success.
Taking a closer look at one of the activations, it is clear that having a common goal of submitting photos and completing the mosaic took the social concept to the next level. In just a 3 week period, over 35,000 photos were submitted through Facebook, Twitter hashtag, Instagram hashtag, and mobile. To add fuel to the flame, a top 'liked' leader board for the most popular photos spurred sharing to a viral level.
How do you improve on the most interactive photo mosaic platform? That was the question posed to Albert Charpentier, the founder of Picture Mosaics. He explained "Our goal is simple, continue to build social and interactive ways for fans to come together artistically. I strongly believe that our latest mosaic platform accomplishes this on many levels." Later, when discussing specific activations, he stated, "Our Social and Interactive Platform 5.0 was a perfect fit for the Atlanta Falcons and allowed them to unite fans in a fun and meaningful way."
Quickly giving the new platform a spin, it is clear why this version deserves a few more accolades. On the surface, some of the new and polished features include: (1) a dynamic pop-in and pop-out animation, (2) a sleek dedicated mobile interface with improved HTML5 support, and (3) a brand new search results photo tour mode.
These shiny new features only make up part of the new platform. The entire platform was given a complete overhaul to be more versatile and social. Most notable are the following: (1) superior Instagram and Twitter hashtag submission, aggregation, and moderation, (2) improved Facebook connectivity, submission options, and fan-gating options, (3) improved viral modules including Facebook "liking" on photos and a "most liked" photos leader board, (4) streamlined donation flow for "buy-a-brick" like fundraising campaigns, (5) new interactive and social in-mosaic games such as "find the photo" contest/sweepstake, and (6) improved HTML5 performance and usability.
But instead of just reading about the new platform, why not take it for a test drive at either the Pup Mosaic or the Meow Mosaic
Other great examples of the platform can be found at the Picture Mosaics website.
If you are looking to bring your fans and consumers together in an exciting photo mosaic experience, be sure to check out Picture Mosaics' new Social & Interactive Mosaic Platform.
About Picture Mosaics LLC:
Their mission statement: To provide an industry leading solution to create the very best photo mosaics in all print and multimedia genres. To achieve this, Picture Mosaics has engineered (and continues to engineer) the most advanced software and design techniques for their digital artist to build photo mosaics that are both a technical and artistic marvel. A goal with every project is to achieve that ever desirable "wow" factor. Furthermore, Picture Mosaics strongly feels that the creation of a photo mosaic is true art form and not just results of computer yielding a mathematical result. From a framed masterpiece or wall mural, a stunning inMotion video mosaic, to a even a fully social and interactive online digital mosaic experience, Picture Mosaics is pushing the bounds of what is possible.