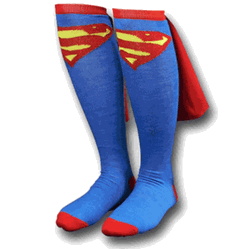 So glad I found Wacky Planet. I can sum up my experience in two words. Total Satisfaction!! Thank You"
Waltham, MA (PRWEB) March 07, 2013
WackyPlanet understands that novelty socks have become a fashion statement for men, women and girls. Sock customers "vote with their feet" in today's stylized world -- you have to get ready to go outside of the box to make a statement.
WackyPlanet.com has taken this fun task to heart by offering a great selection of novelty socks by quality manufacturers like Sock It To Me to their online retail store.
Funny sock customers want unique products made with quality materials. All crazy socks seen on the website are poly-blend cotton and machine washable. They come in a variety of sizes for girls and women and men ages 14 and up. Men's socks include the mustache sock and the beer sock as best sellers.
Women's socks are available in cozy knee-highs including the Bad Ass and the Pirate Stripe Socks. There are socks available for the whole family and for every occasion like Christmas and Halloween. These items make great gifts for teachers, music instructors, friends and family.
WackyPlanet customers love the selection of funny t-shirts, desk toys, mugs, aprons and more. Finding the perfect fun gift can be tricky, but Wacky provides customers with the widest and quirkiest selection available. One customer said "I was looking for a specialized t-shirt for my son. I visited several web sites, but could not find want I was looking for. Then I found Wacky Planet. I can sum up my experience in two words. Total Satisfaction!! Thank You"
Wackyplanet.com is one of the largest retailers of of fun, funny and trendy gifts on the web. Thousands of products are shipped quickly from their Massachusetts warehouse to all destinations across the US as well as internationally. Questions about shipping, product information or other inquiries? Give the Customer Service line a call at the toll-free number. Or access live support through the customer service link on the site.
Representatives are available for assistance Monday through Friday from 10am – 4pm EST.