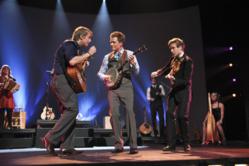 The most exhilarating and authentic show to come from Ireland in decades - not to be missed!
Worcester, MA (PRWEB) March 11, 2013
Extend your St. Patrick's Day celebrations through the month of March with the triumphant return of CELTIC CROSSROADS at The Hanover Theatre for the Performing Arts on Saturday, March 30 at 7pm. This performance is generously sponsored by Fletcher Tilton.
CELTIC CROSSROADS is critically acclaimed as 'the most exhilarating and authentic show to come from Ireland in decades - not to be missed!' It is an explosion of youthful energy and dazzling musicianship. CELTIC CROSSROADS abounds with fusions of traditional Irish music, bluegrass, gypsy and jazz whilst pulsating with the rhythms of exciting Irish dance percussion. Spontaneous mid show ovations are the norm, and enraptured CELTIC CROSSROADS audiences are always compelled to shout, and shout for more.
Tickets to CELTIC CROSSROADS are $32 and $42* with a 10% discount available for members of The Hanover Theatre, groups of 10 or more, kids, students and WOO Card holders. Tickets are available online at TheHanoverTheatre.org, by phone at 877.571.SHOW (7469), and at The Hanover Theatre box office located at 2 Southbridge Street in downtown Worcester.
About the theatre
The Hanover Theatre for the Performing Arts, located in downtown Worcester, New England's second largest city, is recognized by Pollstar as one of the top 50 theatres in the world. After undergoing many name changes and renovations over the decades since its 1926 birth, The Hanover Theatre reopened in March 2008 following a $32 million historic restoration. Since then, the theatre has established its place as a rich entertainment and cultural venue, winning numerous awards, including The National Trust for Historic Preservation Award in 2010. Now in its fifth season, The Hanover Theatre continues to expose over 170,000 annual patrons to world-class entertainment in the form of Broadway, concerts, comedians and much more. For more information, visit TheHanoverTheatre.org. Worcester Center for the Performing Arts, a registered not-for-profit 501(c)(3) organization, owns and operates The Hanover Theatre for the Performing Arts. All donations are tax deductible to the fullest extent allowed by law.
About Fletcher Tilton
With roots dating back over 190 years, Fletcher Tilton is the ninth oldest firm in the nation. Two centuries later, they remain one of the regions premier law firms and continue to offer responsive solutions to meet the challenges that face today's clients.
With nearly 50 attorneys, a large cadre of paralegals and support staff, over 35 practice areas, and offices in Worcester, Framingham & Cape Cod, Fletcher Tilton strives to maintain a relationship of trust, confidence and service with clients of every size, from individuals and entrepreneurs to small businesses and large corporations.