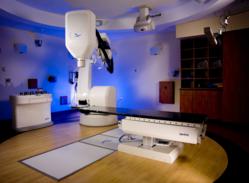 "Austin CyberKnife offers an effective cancer treatment option that allows patients to return to their normal routines following treatment," said Dr. Doug Rivera, medical director of Austin CyberKnife.
AUSTIN, Tx. (PRWEB) March 07, 2013
Austin CyberKnife announces the achievement of several milestones since its establishment in March 2011 through a partnership with a group of local physicians and University Medical Center Brackenridge, a member of the Seton Healthcare Family.
The CyberKnife® program at University Medical Center Brackenridge originally launched in 2005 and focused primarily on the treatment of brain tumors. Since Austin CyberKnife was formed, the center has expanded the clinical applications of CyberKnife to treat other areas of the body, such as the lungs and kidneys. Austin CyberKnife's physicians have treated more than 700 patients using advanced CyberKnife® technology.
Approximately 22 percent of patients treated in the last two years have traveled from outside the hospital's primary service area to receive CyberKnife treatment, including patients from bordering states such as Arkansas and Kansas. Brain and lung tumors represent the majority of cases at more than 75 percent of treatments.
"Austin CyberKnife offers an effective cancer treatment option that allows patients to return to their normal routines following treatment," said Dr. Doug Rivera, medical director of Austin CyberKnife. "CyberKnife is a particularly important alternative for patients who are not surgical candidates or those with tumors in difficult-to-reach areas of the body."
CyberKnife delivers pinpoint high-dose radiation to tumors without incision or sedation in five or fewer outpatient procedures. During treatment, the advanced technology tracks the motion of a patient's tumor and automatically corrects the aim of the radiation beam when movement is detected, minimizing radiation exposure to healthy tissue surrounding a tumor.
For Austin CyberKnife patient Jan Carey, the procedure was her only option after her kidney cancer spread throughout her body.
"I was diagnosed with stage 4 kidney cancer, which had spread throughout my entire body, including my brain," Carey said. "I had two lesions in my brain, and the treatment was offered to me as a package."
According to Dr. Paiman Gahfoori, the Austin CyberKnife radiation oncologist who treated Carey, CyberKnife successfully treated her kidney and metastatic cancer.
"Mrs. Carey has normal kidney function and no evidence of cancer anywhere in her body," Dr. Gahfoori said. "We are very glad to see she is working full time and has an excellent quality of life."
In addition to helping patients like Carey, upgrades to the center's CyberKnife technology have expanded Austin CyberKnife's ability to treat lung tumors in certain types of patients.
Austin CyberKnife was one of the first centers in the world to install the Lung Optimization Treatment (LOT) system, which allows patients with conditions like emphysema and chronic obstructive pulmonary disease to undergo CyberKnife treatment without the use of fiducials, small metal markers sometimes implanted in or near a lung tumor prior to CyberKnife treatment. Since tumors in the lung can move during treatment, fiducials assist physicians in identifying the exact location of the tumor to target the CyberKnife's radiation beams.
Lung cancer patients already suffering from chronic lung disease, however, may not be able to undergo the fiducial implantation process without increased risk of a pneumothorax, or collapsed lung. Austin CyberKnife's latest technology featuring LOT reduces the need for placing fiducials in higher risk lung tumor patients.
"The LOT system is a major advancement that opens CyberKnife treatment to more lung cancer patients who may not have previously been candidates due to other health issues," said Dr. Rivera. "In some cases, patients with chronic pulmonary disease who are diagnosed with lung cancer have few alternatives for treatment."
In January 2012, Austin CyberKnife reached another milestone in cancer care when regional Medicare contractor TrailBlazer Health Enterprises agreed to expand prostate cancer coverage to include CyberKnife treatment, provided patients are enrolled in a clinical study.
According to Austin CyberKnife site administrator Melissa Cronn, the policy change was important, as some prostate cancer patients may refuse standard treatment like surgery because of the potential side effects that can impact quality of life.
"CyberKnife treatment costs less than conventional radiation therapy for prostate cancer and does not require the anesthesia and overnight hospital stay associated with surgery," Cronn said. "This can translate into reduced health care costs."
In addition to cancer treatment, Austin CyberKnife has treated an increasing number of patients with trigeminal neuralgia, a rare and debilitating nerve disorder that causes excruciating, electroshock-like pain throughout the face. CyberKnife has been effective in treating these patients, usually in no more than a single outpatient treatment session.
Austin CyberKnife at University Medical Center Brackenridge offers the only CyberKnife program in the greater Austin area. For more information, call (512) 324-8060.