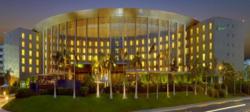 Fairmont Heliopolis & Towers promises an unforgettable Mother's Day experience.
Cairo, Egypt (PRWEB) March 13, 2013
Treat your mom to an unforgettable "Mother's Day" experience at Fairmont Heliopolis & Towers' exquisite Cairo restaurants: Noble House, Al Dabké, Leonardo, Lan Tania, Raj and Maria's. Let her enjoy a complimentary lunch or dinner whilst having a surprise Mother's Day gift! Don't miss Le Marché's Special Mother's Day Cakes, Pastries, Lan Tania's Cooking Classes for Mothers, and Aqua e Luce and Saki Sushi Lounge's exclusive 25--percent discount on meals for ladies only.
With diverse cuisines and ambiance, from impressively luxurious to pleasingly casual - and always accompanied by engaging service few can rival, Fairmont Heliopolis & Towers promises an unforgettable Mother's Day experience.
Fairmont Heliopolis & Towers believes that authentic cuisine cannot be copied, which is why this world-class Cairo hotel is home to a large team of multinational chefs, who bring their authentic cooking and recipes, as well as their local traditions, to Egypt's restaurant scene.
ABOUT FAIRMONT HOTELS & RESORTS
Fairmont Hotels & Resorts is a celebrated collection of more than 65 luxury properties around the globe, including Shanghai's Fairmont Peace Hotel, The Plaza in New York, and Makkah Clock Royal Tower in the Kingdom of Saudi Arabia. The luxury brand's distinctive hotels offer a sense of heritage and sophistication, warm, engaging service and culturally rich experiences. Fairmont balances the company's economic, environmental and social priorities and provides the framework for responsible hotel operations through the Sustainability Partnership program. Fairmont is owned by FRHI Holdings Limited, a leading global hotel company with over 100 hotels under the Fairmont, Raffles, and Swissôtel brands. The company also manages Fairmont, Raffles and Swissôtel branded luxury private residences club, whole-ownership residences and serviced residences properties. For more information or reservations, please call 1-800-441-1414 or visit fairmont.com.
Become a fan of Fairmont. Join our online communities at everyonesanoriginal.com, facebook.com/fairmonthotels, twitter.com/fairmonthotels, and pinterest.com/fairmonthotels/. For career opportunities, visit facebook.com/fairmontcareers.