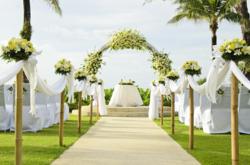 Newport Beach, CA (PRWEB) March 08, 2013
Reality shows have been a growing trend in popularity the past several years, and as a result, so have the budgets for reality weddings. Reality weddings have gotten larger, fancier, and much more expensive, and regular brides seem to expect more out of their own weddings, remarks Wedding.com.
ABC producers recognize the popularity trends and are following suit. They are reportedly looking to spend up to $1 million on this season's Bachelor wedding for Sean Lowe (http://hollywoodlife.com/2013/03/06/sean-lowe-wedding-cost-the-bachelor/). As reality wedding budgets get bigger, many brides want to mirror the same grandiosity of televised weddings and are disappointed when unable to do so. Wedding.com cautions brides not to have unrealistic expectations of their own celebrations as network budgets are much greater than what most typical people have for their own wedding budget.
"Producers have millions of dollars at their disposal to put large, pricey weddings together. Reality weddings are planned mostly to appease current fans and gain new ones in the process," says Brett Reynolds, CEO of Wedding.com. "Brides should keep that in mind while planning their own. After all, the cost of a wedding is no indication of how happy a marriage will be."
For more information about Wedding.com, please visit http://www.wedding.com.
About Wedding.com
Wedding.com is an innovative new website that connects engaged couples planning their wedding with wedding vendors looking to grow their business. Wedding.com contacts vendors for couples, giving them the power to compare and negotiate while ultimately saving time and money. With 12,000 couples and 22,000 vendors currently using the website, 105,000 proposals have already been sent since their inception. Vendors range in services from wedding planners, photographers, florists, and DJs to custom invitations, party favors, and much more. For additional information about the company and its services, please visit http://www.wedding.com.