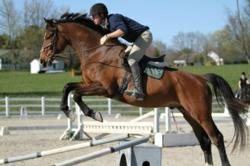 Norwood, North Carolina (PRWEB) March 08, 2013
Tik Maynard, equestrian rider and trainer, introduces young riders and their horses techniques that will enhance their relationship in and out of the saddle. Building trust and understanding between horse and rider translates to better results in the show arena.
Tik's approach to horse training has its root in the methods used by Pat Parelli, Bruce Logan and Jonathan Fields. Tik applies these methods as a means to achieving a synergistic partnership between performance horse and rider under saddle: in the hunter/jumper, eventing and dressage context.
For more information and to register for the 2 Day Clinic at The Fork Farm in Norwood North Carolina, please contact John Alexis at 732-616-1856 or bbhstables(at)embarqmail(dot)com.
More about Tik:
The son of two accomplished professional equestrians, Tik has enjoyed success in the international show ring. He spent six years on the Canadian National Team competing in the Modern Pentathlon, including at the Pan-American Games in Rio De Janeiro, Brazil in 2007, at three World Championships, and at eleven World Cups.
In 2012, Tik was placed on the long list for the Canadian National Team for Eventing for the London 2012 Olympics and he is looking forward to training with the national team in 2013 with a focus on WEG 2014. Tik has been a working student for David and Karen O'Connor (Eventing), Johann Hinnermann (Dressage), Ingrid Klimke (Dressage and Eventing) and Bruce Logan (Horsemanship and Cutting). Prior to joining Bow Brickhill Stables in 2011, Tik was assistant trainer for five-time Olympic show jumper, Anne Kursinski.