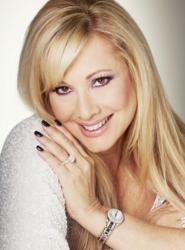 Tampa Bay, FL (PRWEB) March 07, 2013
Rhonda Shear is still keeping us Up All Night, and this time she's selling the lingerie not just wearing it. Ten years ago Rhonda launched her line of sexy shapewear, comfort bras, and sleepwear at HSN where she sold out in minutes. On Friday March, 8th 2013 Rhonda will be marking her 10 years as one of the top selling brands at the network with a Today's Special Pin-Up Girl 5-pack Panty available for just $39.90 in sizes XS-3X!
Since that first show at HSN, Rhonda has quickly become an international TV shopping sensation as the millionaire-showbiz-entrepreneur behind The Ahh Bra and Rhonda Shear Intimates over 3,000 SKU business. Her award winning products are now sold at shopping channels and with retailers in over 30 countries. Her unique blend of humor and creative drive has built a powerhouse in the intimate apparel industry, and inspired women the world over to own their dreams- at any age!
The business world has also taken note of the rapidly growing brand awarding Rhonda prize after prize including Ernst & Young Entrepreneur of the Year in FL, Enterprising Woman of the Year and 3rd Top Fastest Growing Women Owned Business (WPO) along with ERA Moxie Awards for Best Female Presenter and Best Long Form!
She kept USA: Up All Night for 450 episodes over 8 years, appeared on hundreds of shows including Larry King Live, and in several movies including Spaceballs- all while working as a stand-up comedian during her 26 years in Hollywood! Rhonda Shear now takes the inspiration from years in front of the camera and her own desire for comfortable and flattering intimates to design. Customers of all shapes and ages are invited to find their Ahh Moment with innovative and asset enhancing new styles from Rhonda at amazing HSN prices. The Today's Special Pin-Up Girl Panty features line free support in adorable prints and gorgeous spring colors with delicious lace detailing. Join the Panty Party and Rhonda Shear at midnight to see a look back at her incredible journey to panty stardom!
About Rhonda Shear:
Growing up as a beauty queen in New Orleans, Rhonda Shear became known as the comedic and curvy hostess of USA:Up All Night and headlined as a stand-up comedian and actress in Hollywood. In 2001 she launched Shear Enterprises, LLC and the Rhonda Shear Intimates line of shapewear, sleepwear, bras, panties, and apparel featured at HSN, TSC:Canada, QVC:International, and other retailers. Her intimates line is designed to fit and flatter any shape with sizes XS - 3X in most styles and beautiful color and style options. The Ahh Bra Infomercial by Rhonda Shear became a worldwide, award winning bestseller selling over 30 million units of the bra. Shear plans to launch a line of fragrance & cosmetics, a book, and possibly even a reality show within the next year. Follow Rhonda on Twitter, Facebook, Instagram, YouTube, Pinterest, and at http://www.RhondaShear.com for all the latest!
About HSN:
HSN is a leading interactive multi-channel retailer, offering a curated assortment of exclusive products and top brand names to its customers. HSN incorporates entertainment, inspiration, personalities and industry experts to provide an entirely unique shopping experience. At HSN, customers find exceptional selections in Health & Beauty, Jewelry, Home/Lifestyle, Fashion/Accessories, and Electronics. HSN broadcasts live to 96 million households in the US in HD 24/7 and its website — HSN.com - is a top 10 most trafficked e-commerce site, featuring more than 16,000 product videos. Mobile applications include HSN apps for iPad, iPhone and Android. HSN, founded 35 years ago as the first shopping network, is an operating segment of HSN, Inc. (Nasdaq: HSNI). For more information, please visit HSN.com, or follow @HSN on Facebook , Twitter, Instagram, and Pinterest.