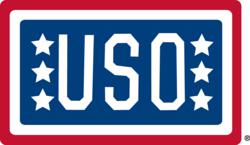 This is my second USO tour but my support for the men and women who serve this country never ends... - Kim Coates
Arlington, VA (PRWEB) March 07, 2013
Twitter Pitch: @SonsofAnarchy's Kim Coates, Mark Boone Junior & Dayton Callie to set out on second overseas tour with @the_USO
WHAT: USO visit featuring "Sons of Anarchy" cast members Kim Coates, Mark Boone Junior and Dayton Callie
WHEN: March 12 – 19, 2013
WHERE: Guam, Mainland Japan and Hawaii
WHY: They may portray hardened motorcycle club members on the top-rated television series in FX history but the actors from "Sons of Anarchy" have a soft spot for our troops. It's the reason actors Kim Coates, Mark Boone Junior and Dayton Callie are headed to the Pacific to deliver a touch of home to servicemen and women and their families stationed in Guam, Mainland Japan and Hawaii. The seasoned actors and USO tour veterans are sure to be a welcomed distraction for deployed military families.
In 2010, Coates, Boone, and Callie set out on their first USO tour – along with fellow "Sons of Anarchy" cast mate Theo Rossi – and visited more than 2,000 troops in Kuwait and Iraq. Last year, USO tour veterans Rossi and Callie, joined by "Sons of Anarchy" star Ron Perlman, spent a day visiting troops and their families at Marine Corps Air Ground Combat Center Twentynine Palms in California.
QUOTES:
Attributed to Kim Coates:
"This is my second USO tour but my support for the men and women who serve this country never ends. On my first tour we went to Iraq and Kuwait and that was a life-changing experience for me. I'm looking forward to spending time with military families who make big sacrifices right along side our troops."
Attributed to Mark Boone Junior:
"Any chance I have to let our troops know how much I appreciate their service is an honor. They deserve to hear it everyday, because without their sacrifices we all would not be able to enjoy the freedoms we have today. I feel very lucky to be going out on another USO tour with Kim and Dayton and for the chance to meet with some of my favorite fans."
Attributed to Dayton Callie:
"I'd do this every year if I could, there is no feeling like visiting our troops where they serve and having the chance to tell them 'thank you' face-to-face. One of the things that surprised me most, from our first USO tour, was how big of a hit the show is with the military. As a veteran myself, it was a proud moment for me."
For more information about the USO, visit uso.org.
About the USO
The USO lifts the spirits of America¹s troops and their families millions of times each year at hundreds of places worldwide. We provide a touch of home through centers at airports and military bases in the U.S. and abroad, top quality entertainment and innovative programs and services. We also provide critical support to those who need us most, including forward-deployed troops, military families, wounded warriors and families of the fallen. The USO is a private, non-profit organization, not a government agency. Our programs and services are made possible by the American people, support of our corporate partners and the dedication of our volunteers and staff.
In addition to individual donors and corporate sponsors, the USO is supported by President's Circle Partners: American Airlines, AT&T, Clear Channel, The Coca-Cola Company, jcpenney, Jeep, Kangaroo Express, Kroger, Lowe's, Northrop Grumman Corporation, Procter & Gamble, and TriWest Healthcare Alliance and Worldwide Strategic Partners: BAE Systems, The Boeing Company, Lockheed Martin, Microsoft Corporation and TKS Telepost Kabel-Service Kaiserslautern GmbH & Co. KG. We are also supported through the United Way and Combined Federal Campaign (CFC-11381). To join us in this patriotic mission, and to learn more about the USO, please visit uso.org.
###