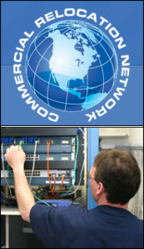 "When it comes to computer moving services, we know exactly what we're doing," a spokesman for the Commercial Relocation Network stated
Seattle, WA (PRWEB) March 18, 2013
The Commercial Relocation Network is proud to offer computer moving services for business moves. With expertise and unparalleled know-how, the CRN is pleased to provide moving services for electronics, ranging from personal computers to mainframes.
The Commercial Relocation Network is now available to transport small and large-scale electronics, from your old offices to your new offices, providing professionalism and efficiency along the way.
"When it comes to computer moving services, we know exactly what we're doing," a spokesman for the Commercial Relocation Network stated. "Our best in class commercial moving companies are all trained and highly qualified to move sensitive electronic equipment for your business."
The Commercial Relocation Network offers business relocation computer services including server prep/packing, specialized crating and palletizing, managed moves of PC workstations, IP phones, printer stations, PC peripherals, and PC & server moves.
Specializing in business relocation, members of the Commercial Relocation Network are able to support IT staff during business moves. In addition to computer moving services, the CRN also offers packing services, installation services, recycle/disposal services, and space decommission. The CRN guarantees expert handling of all of your sensitive electronics and computer technologies.
About Commercial Relocation Network
The Commercial Relocation Network (CRN) is the best business relocation company out there. Made up of the most successful industrial and office relocation services companies in the country, the CRN is committed to helping businesses and offices move quickly, safely and securely. Administered by a steering committee of industry professionals, the CRN ensures that each company in its membership is "Best in Class." Building off of the core values of Creativity, Expertise, Integrity, and Access, the CRN is there to make you next commercial or industrial move or office relocation a breeze. For more detail visit: http://www.officemovingcrn.com/.