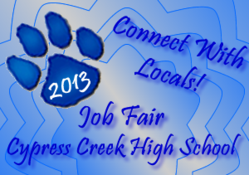 Helping Houston get back to work
Houston, TX (PRWEB) March 09, 2013
Students in Cypress Creek High School's Business and Finance Academy know exactly what it's like when a parent can't find a job. So, with the goal of "Helping Houston Get Back to Work," they're sponsoring a job fair for the entire community.
From 4 to 8 p.m. March 21, more than 20 companies, including Amegy Bank, Kroger, Lone Star College System and BMC, will be looking to fill hundreds of local full and part-time positions at the job fair at Cypress Creek High's Common Area, 9815 Grant Road, Houston, Texas, 77070. The job fair is open to local job seekers of all ages.
"The children within our school see the impact a parent without a job has firsthand, so they wanted to take action to solve this problem," said Vallorie Mason, B & F Academy principal.
Attendees will meet face-to-face with a variety of employers, pass out their resumes and references, make connections and interview.
The B & F Academy prepares students for college and careers in the business and finance careers. Students develop their technology, problem-solving and communication skills while learning about the world of business.
The Job Fair
March 21, 2013
4-8 p.m.
Cypress Creek High School
Commons Area
9815 Grant Road, Houston, TX 77070