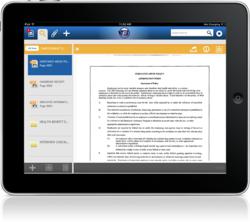 FileBound continues to develop innovative office automation solutions that solve real world problems with measureable results.
Lincoln, NE (PRWEB) March 12, 2013
FileBound announced the latest release of the FileBound Office Automation solution at their Worldwide partner conference held in Coronado, CA. The conference was strongly attended by partners from North America, Australia, Africa, Latin America and Central America in anticipation of the release. The new FileBound release includes over 60 new innovations that strengthen the FileBound market position. The most notable additions include FileBound Touch – an interface that optimizes the user experience on touch enabled devices, FileBound App for the iPad, FileBound Drive which delivers a secure and auditable mapped drive capability for the enterprise and continued advanced document capture capabilities.
"FileBound continues to develop innovative office automation solutions that solve real world problems with measureable results", said Dan Yount, President of FileBound. "Our latest innovations have allowed our partners and our customers to gain a competitive advantage in their respective markets", continued Mr. Yount.
Highlighted at the conference were customers who have successfully leveraged the FileBound Office Automation technology in the Automotive, Banking and Higher Education markets. These guest speakers are recognized innovation leaders in their respective markets and shared insights into how FileBound has provided the compliance, scalability and cost controls they need to succeed in today's economy.
"Our innovation pipeline has never been stronger and the advanced capabilities our newest release delivers continues to strengthen the market position of our partners and our customers", said Sean Nathaniel, CIO of FileBound.
About FileBound
FileBound is developed and distributed globally by Marex Group Inc., a dynamic privately held corporation with business interests in process automation and document management. FileBound is committed to a customer centric approach to innovation, excellence and solutions that deliver measurable results. FileBound solutions can be deployed locally, outsourced as a cloud-based service or deployed in the form of a network appliance.
The FileBound team has a proven track record of developing solutions that have been implemented by organizations of all sizes around the world. Our mission is to continually leverage technology innovations to build market leading solutions that solve today's management challenges and ensure the growth and success of our customers and business partners.