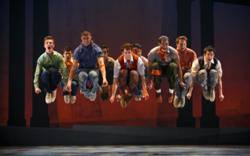 Modesto, CA (PRWEB) March 11, 2013
When "West Side Story" opened on Broadway more than 50 years ago, it fundamentally altered the form of musicals. The theatricality of its presentation, the cinematic flow of its staging, and the integration of script, song, dance and set continue to influence Broadway.
Now a new, spectacularly staged production of "West Side Story" is on a national tour and will be presented at the Gallo Center for the Arts Friday – Sunday, April 5 – 7, for five performances.
Tickets are priced from $29 to $99, and may be purchased online at GalloArts.org, by calling (209) 338-2100, or at the Gallo Center ticket office, 1000 I Street in downtown Modesto. Organized groups of 15 people or more receive a 15% discount on tickets. Group sales information is available by calling (209) 338-5062.
Inspired by William Shakespeare's play "Romeo and Juliet," the musical was written by three theatrical luminaries: two-time Tony Award winner Arthur Laurents (book) and multiple Tony and Grammy Award winners Leonard Bernstein (music) and Stephen Sondheim (lyrics) in his Broadway debut.
"West Side Story," in New York's Upper West Side, tells the story of star-crossed lovers Tony and Maria as they struggle to rise above the hatred and intolerance that surrounds them, including the rivalry between the Jets and the Sharks, two teenage street gangs of different ethnic backgrounds.
The Bernstein and Sondheim score is considered to be one of the finest in Broadway history. Nearly every song is now a standard, among them "Something's Coming," "Tonight," "America," "I Feel Pretty" and "Somewhere."
"It remains Broadway's best dance-driven musical," says the Associated press. "Five decades have not dimmed the extraordinary choreography or the score that pulsates throughout."
"West Side Story" is part of Boyett Petroleum Broadway Series, and is sponsored by Alfred Matthews Cadillac-GMC-Buick, Del Monte Foods and Tri Counties Bank.