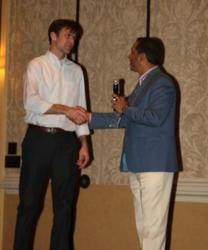 "Solar Eclipse has been an integral part of what our network stands for in Integrity, Innovation and a focus on delivering service and growth to all members of our network."
Richmond, VA (PRWEB) March 09, 2013
Hüper Optik USA, a pioneer of the first Multilayered, true nano-ceramic window film, has awarded the National Horizon Award – Small Market to Solar Eclipse of Mechanicsville, VA. This award is given to an innovative company that has shown significant and consistent growth. Pictured are Paul Phinney – Owner of Solar Eclipse and Faisal Nazir, CEO of Huper Optik USA.
"Paul has been an integral part of what our network stands for in Integrity, Innovation and a focus on delivering service and growth to all members of our network." said John Yard, Vice President of National Sales for Huper Optik USA.
Paul was also inducted into our Circle of Regional Excellence for 2013. This is structured like a board of advisors for the Huper Optik Dealer Network Alliance. This CORE group provides invaluable feedback on how to make our network the best in the Industry.
Solar Eclipse was opened in 2001 with a concentration on the automotive business. He expanded his business into the energy efficiency market in 2005 with the addition of Huper Optik Smart Window Films. Paul attributes his success in the energy efficiency market to the Huper Optik system. "Huper Optik's great products have opened doors for us by giving our customers the choice to have the very best. Our seven years with Huper Optik have given us the opportunity to prove the sincerity of Huper Optik's business philosophy. The Huper Optik network has a combination of trust and care that is uncommon in the business world."
Huper Optik USA is a market leader in German engineered, multi-layers nano-ceramic and traditional solar control film technology, providing energy savings and security solutions for commercial, residential, automotive and marine industries through a strategic network of authorized dealers in the United States, Mexico, South America and Canada. The company, which celebrated its 10 year anniversary in 2010, is known for its innovations in ceramics, including its patented dual layer, nano-ceramics, neutral toned products, with low interior reflectivity. For more information or to become a dealer visit http://www.huperoptikusa.com or contact communications(at)huperoptikusa(dot)com