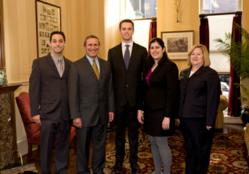 (PRWEB) March 11, 2013
The Law Firm of Pozzuolo Rodden P.C., announces the release of the article: "Can An Employer Prohibit Dating In The Workplace? The Road to Love or Litigation". Below is a sample of the first couple of paragraphs. If you would like to read more, please read the full article and other corporate law, or estate planning topics at http://www.pozzuolo.com/Pubs_Articles.shtml
CAN AN EMPLOYER PROHIBIT DATING IN THE WORKPLACE?
The Road To Love Or Litigation
Often times romantic relationships can arise between co-workers. This is unavoidable when employees spend a large portion of their day together at work and get to know their co-workers and develop more than professional feelings and attractions for one another. While these romances hopefully lead to happy marriages and unions they can also end in awkward break ups or even litigation. There is always the possibility that once the relationship ends an employer can be subjected to liability based upon sexual harassment if the employer was not adequately prepared to handle such workplace romances and their sometimes messy end.
The Civil Rights Act ("Title VII") protects employees from discrimination on the basis of race, color, national origin, religion and/or sex. Employers need to ensure their policies and procedures affirmatively addressed workplace romances or they could be subject to Tile VII claims of discrimination.
Some employers attempt to circumvent any liability by expressly outlawing dating between co-workers, however, despite these no dating policies workplace romances still arise. A more pragmatic solution is to have a policy which requires disclosure of relationships between co-workers. If a relationship is disclosed an employer can have the employees attend counseling on the employer's sexual harassment policies and sign consents that they are aware of the policy and the method for reporting violations of the policy. Additionally, the employer may require that the employees sign an acknowledgement that they are both freely and voluntarily entering into the romantic relationship, that they will conduct themselves in a professional manner while at work.
Additionally, relationships between supervisors and their subordinates may require additional steps on behalf of an employer to protect itself from liability. Even having the employees sign an acknowledgement that the relationship is voluntary may not be adequate to show that it was consensual and free of harassment because of the difference in power and authority between the employees when one is a subordinate of the other. In these situations it is prudent of the employer to either transfer one employee or restructure the reporting hierarchy between the employees so one is not the direct subordinate of the other.........
If you would like to read more, please read the full article "Can An Employer Prohibit Dating In The Workplace? The Road to Love or Litigaton" and other corporate law or estate planning topics at: http://www.pozzuolo.com/Pubs_Articles.shtml
Pozzuolo Rodden, P.C. provides specialized cost-effective legal services to privately held business owners and high-net-worth clients in Pennsylvania and New Jersey in excess of 35 years.
Practice Areas:
Business planning and transaction, complex business litigation, commercial real estate and development, construction law and litigation, advanced estate planning and administration, tax and pension law, high profile and intricate family litigation, and employment law and litigation.
Pozzuolo Rodden, P.C.
Counselors at Law
2033 Walnut Street
Philadelphia, PA 19103
215-977-8200
http://www.pozzuolo.com