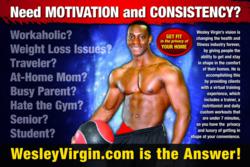 There are two main components to Virgin's 7DayFitness plan: consistency and motivation.
(PRWEB) March 07, 2013
Wesley Virgin, motivational speaker and preeminent fitness trainer, is promoting wellbeing through his 7DayFitness.com program. Virgin understands the time and fiscal constraints of a traditional gym membership and a personal trainer. As a result of this, Virgin created 7DayFitness.com to allow users across the globe to workout in the comfort of their own homes and learn how to lose 10 pounds.
There are two main components to Virgin's 7DayFitness plan: consistency and motivation. Virgin believes that one of the biggest issues with a workout regimen is a lack of consistency. Virgin and his team work together with clients to help overcome bad habits they have previously developed and to help instill positive new habits to create weight loss for men and women. Virgin also has discovered that a principal reason why people are hesitant to work out is a lack of motivation. Through constant reminders and encouragement from the 7DayFitness workout team, Virgin has created an environment of positive motivation for his clients.
Virgin offers workouts geared specifically toward both men and women. For his workouts designed for men, he shows a number of workouts and specific exercises a man can perform in order to lose weight, cut fat, and gain muscle tone. For his workouts designed for weight loss for women, Virgin uses his textbook motivational skills to help women lose weight simply in short amounts of time each day.
Virgin and his team are available throughout the week over the phone at 713-485-4789 and are ready for you to make the call to turn your life and wellbeing around. You can also check out Virgin's website at http://www.wesleyvirgin.com/ and http://www.getfitwithpassion.com/.
About Wesley Virgin:
Wesley Virgin is a trainer and motivational specialist who has a lengthy proven track record of helping clients lose weight, regain their health, and change their lives and lifestyles. He is the founder of 7DayFitness, an interactive motivational community where busy people can converge in an effort to increase their positive health outlook. Virgin is one of the most prominent in the virtual fitness field, and his interactive and unique approach to fitness has made him a cut above the rest in the world of personal health.