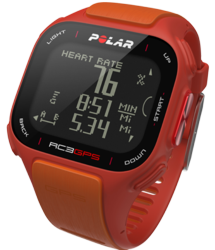 The other thing we like is that for women with smaller wrists this is about the smallest GPS watch made other than the pacing versions like the Garmin Forerunner 10
Bozeman, MT (PRWEB) March 08, 2013
The brand new Polar RC3 in orange with black display is available now for advanced ordering and should begin shipping later in March.
"This watch has a very nice look to it," says Rusty Squire, President of the Heart Rate Watch Company. He adds, "I love Polar's new integrated GPS but this particular color combination really strikes a chord and the black screen has enough contrast so it should work much better outside."
Polar RC3 is Polar's first ever fully integrated GPS watch and it is also the lightest fully integrated GPS watch with a battery life of over 8 hours and a weight of 2 ounces. "We like the Polar RC3 and while it doesn't have all the advanced heart rate features, like R&R heart rate, it does do a great job of delivering heart rate and pacing data for outdoor sports", says Rusty Squire, President of the Heart Rate Watch Company.
The new orange color with black screen will be available in later March but the company is taking advance orders now because delivery times will only be a few weeks out.
"Brandy Stewart, our elite cross-country skier, has been using the Polar RC3 some in her training," says Squire. He adds, "John Yarington, our chief tester, used it as well and liked the product."
DEEP DISCOUNT PRICE
Heart Rate Watch Company sells the Polar RC3 with heart rate for $234.95, a savings of $125 over Polar's price of $349.95 with heart rate. "We always keep our prices very competitive," says Squire.
"This new color and look is quite nice and we think it will be a top seller because it not only has all the features but it has a great look as well," says Squire. He adds, "The other thing we like is that for women with smaller wrists this is about the smallest GPS watch made other than the pacing versions like the Garmin Forerunner 10."
The new Polar Soft strap and H2 transmitter that come with the Polar RC3 are the most comfortable strap system ever made and fit like a second skin according to Squire. "We voted the new Polar soft strap as the single most comfortable chest strap on the market today of all the chest straps we have tested," says Squire.