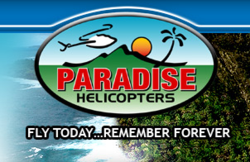 This is only a few miles from the "Robbin's Nest" where it lived on TV during the 80's run of the popular action television serie
Hilo, HI (PRWEB) March 09, 2013
Hawaaii helicopter tour company, Paradise Helicopters, announces the return of the Magnum, P.I. Helicopter, "The Chopper" to Oahu. Magnum alumni Roger Mosley (T.C.) and Larry Manetti (Rick) were on hand to turn over the keys to a frenzy of media and HELI-EXPO attendees, on the opening day of the expo.
Paradise Helicopters and its employees were on hand to witness and participate in the event. Marketing associate Calvin D. had this to say on the event, "How great is this, I remember watching 'The Chopper' on TV back in the day and now our company gets to participate in this event, very exciting. I'm also excited to see our customers get a chance to experience the helicopter as well, especially the younger passengers who may not have been around for 'The Choppers' original run on Magnum, P.I.."
Phoenix Heliparts has faithfully restored an MD500D with the precise details of the original ship including the exact paint job and original tail boom #'s from the show. After its run on the HELI-EXPO, "The Chopper" is headed to Oahu for it's new home at the Turtle Bay Resort on the North Shore. This is only a few miles from the "Robbin's Nest" where it lived on TV during the 80's run of the popular action television series, Magnum, P.I.
To learn more about Paradise Helicopters please visit, http://paradisecopters.com/.