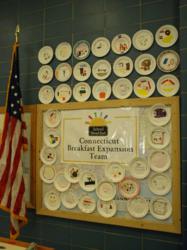 Middletown, Connecticut (PRWEB) March 07, 2013
End Hunger Connecticut!, in partnership with Share Our Strength on the Connecticut No Kid Hungry campaign, are working to end childhood hunger in Connecticut. The Campaign joined by Governor Dannel P. Malloy held a press conference today calling for increased participation in Connecticut's School Breakfast Program. For the past eight consecutive years, Connecticut has ranked last in the nation for the number of schools offering the federal School Breakfast Program. Only 45 percent of low-income students in Connecticut who eat school lunch also eat school breakfast.
"As a State, we can do better," Lucy Nolan, Executive Director, End Hunger Connecticut!, said. "According to recent Food Hardship data from the Food Research and Action Center (FRAC), 14.6% of CT residents are struggling with purchasing enough food for their families. There are federal, state, and private dollars available to schools to implement the School Breakfast Program as well as local resources through the CT Breakfast Expansion Team (CBET) to assist in the planning and implementation of a successful school breakfast program. The School Breakfast Program can alleviate hunger, give students the fuel they need to achieve in school, and promote a healthy lifestyle for all Connecticut school children."
A 2012 study, Hunger in the Classroom, commissioned by Share Our Strength, found 95 percent of teachers surveyed credited School Breakfast Programs as increasing students' concentration; 89 percent credited it as leading to better academic performance; and 73 percent credited it as leading to better behavior in the classroom. Additionally, a 2013 Deloitte study, also commissioned by Share Our Strength, found that, on average, students who eat school breakfast have been shown to achieve 17.5 percent higher scores on standardized math tests and attend 1.5 more days of school per year. Research also shows students who attend class more regularly are 20 percent more likely to graduate from high school.
"We have invested hundreds of millions of dollars to improve public education and poured millions of dollars into teacher training, technology, and infrastructure upgrades—but the fundamental fact is that children who aren't getting enough to eat cannot focus on learning," said Governor Malloy. "We must address all barriers to success—and that includes making sure that Connecticut kids have healthy, nutritious meals to support their brain development and growth. I applaud No Kid Hungry for their work to expand the national School Breakfast Program in Connecticut."
"We must ensure that students start the school day ready to learn," said Commissioner Pryor. "Hunger can be an impediment to student attention and student learning. We strongly encourage schools to implement school breakfast programs and to join the Connecticut No Kid Hungry campaign."
Macdonough School, the site for the launch of the Connecticut No Kid Hungry campaign has seen a 72 percent increase in their school breakfast participation over the past academic year. By transitioning from a grab-and-go breakfast program in the school's cafeteria to an in-classroom breakfast program, Macdonough Principal Jon Romeo and school staff were able to increase participation and make sure that students entered the classroom ready to learn.
To establish or expand a School Breakfast Program, please contact Connecticut No Kid Hungry campaign partner End Hunger Connecticut! at (860) 560-2100 ext. 309 or srobins@endhungerct.org. Learn more about how to bring or expand the School Breakfast Program in your school/s by attending the CT School Breakfast Summit on April 26th at Rentschler Field in East Hartford. Visit http://www.ctschoolbreakfast.org for more details.
About End Hunger Connecticut!
End Hunger Connecticut! is a statewide anti-hunger and food security organization. By focusing on advocacy, outreach, education and research, EHC! serves as a comprehensive anti-hunger resource for community organizations, legislators, and low-income families. To learn more, visit: http://www.endhungerct.org.
Media Contact: Danielle Cyr | Co-Communications | 860.676.4400 | Danielle@cocommunications.com