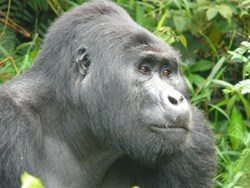 Gorilla tracking in Uganda's Bwindi Impenetrable National Park is a genuine jungle adventure.
Denver, CO (PRWEB) March 11, 2013
A sizable uptick in the most recent mountain gorilla census paired with a special 30-percent discount on Uganda gorilla permits make April and May 2013 ideal months for tracking the rare primates in Bwindi Impenetrable Forest, home to roughly half the world's remaining mountain gorilla population, announced Africa Adventure Consultants (AAC). The safari outfitter also is offering a new 10-day Uganda Flying Safari that takes advantage of new in-country flights for a fresh way to see gorillas, chimps and other primates without the long drives – and can take advantage of the gorilla permit discount for April and May travel.
Gorilla tracking in Uganda's Bwindi Impenetrable National Park is a genuine jungle adventure, with hours spent traversing rugged, possibly muddy high-altitude terrain for an up-close view of the rare mountain gorilla in its famously misty rainforest habitat. Some 400 mountain gorillas, roughly half of the entire world's population of the elusive species, live in the Uganda park. A wildlife Eden, Uganda offers more than 13 primate species, rare birds such as the Shoebill, and tree-climbing lions.
The Uganda Flying Safari provides a gorilla and chimp safari that replaces long drives in favor of more time for wildlife tracking and in-country experiences. In 10 days, travelers go on a guided Kibale Forest trek in search of the chimpanzee and eight other primates, take time for a swamp walk in Bigodi, a village in the Western Uganda highlands near the "Mountains of the Moon," experience Queen Elizabeth National Park's plentiful crocs and hippos, and stalk Ishasha's tree-climbing lions, in addition to two days of gorilla tracking in Bwindi.
Accommodations on the Uganda Flying Safari range from the newly built four-star Protea Hotel in Entebbe to the unique luxury Kyaninga Lodge, featuring solar-powered private cabins – built from more than 1,000 hand-carved logs – set against the blue waters of Lake Kyaninga. The safari ranges from $4,756 per person with seven people traveling to $6,479 per person for two, excluding airfare to and from the U.S. and gorilla and chimp permits.
AAC offers eight different primate tracking tours to Uganda and Rwanda – considered an easier option for gorilla tracking than less-discovered Uganda – including a combined Rwanda & Uganda Gorillas trip. Some of the primate tours focus exclusively on gorillas and some offer the opportunity to experience chimpanzees and other primates in the wild as well. Top trips include the 13-day Ultimate Uganda with two nights at an intimate tented camp in the heart of Bwindi Park, and Rwanda Unforgettable 2013, combining Rwanda cultural attractions and locals visits with chimp treks and the country's easier gorilla tracking. For full itineraries for AAC's safaris, including the eight Uganda and Rwanda primate trips, visit http://www.adventuresinafrica.com/.
Company Information: Africa Adventure Consultants is a leading safari company specializing in crafting custom itineraries to 13 countries in Africa, from classic photo safaris and adventure trekking to luxury honeymoons and family holidays. The staff at Africa Adventures Consultants has lived, worked, and traveled throughout Africa, giving them an insider's perspective on how to create the best safaris in the continent's top destinations. AAC also offers more than 20 group trips, including gorilla safaris in Uganda and Rwanda, Kilimanjaro climbs and migration safaris. For additional information, visit http://www.adventuresinafrica.com.
Media Contact: Anne McGregor Parsons, WordenGroup Public Relations, anne(at)wordenpr(dot)com, 303.777.7667