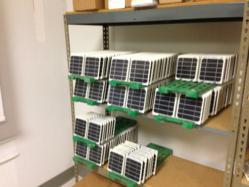 Made in America with zero defects is the result of our total commitment to precision and refinement in all our design and manufacturing processes
San Jose, CA (PRWEB) March 19, 2013
"At Suntactics, we design and build our durable, reliable and hassle-free solar devices for long-term customer value and not obsolesce," said Dean Sala, Suntactics Founder and CEO. "Made in America with zero defects is the result of our total commitment to precision and refinement in all our design and manufacturing processes".
1. Suntactics sChargers use state of the art circuitry design optimized to assure the device is always charging at an optimal rate.
2. All Suntactics' solar chargers are manufactured to its' highest quality control standards with a tenacious, "marine-grade" construction process to assure long life under continual exposure to adverse weather conditions.
3. Suntactics sChargers' simplicity in design makes them hassle-free and effortless to use.
Many remote device solar charger manufacturers do not design and manufacture their solar chargers for durability and reliability. They are entirely focused on cost; "low-cost off-shore companies" manufacture their shoddy solar chargers where zero defects is a foreign concept. Their customers have expressed their concerns in the reviews of their solar chargers and, in several situations, have replaced their defective solar chargers with Suntactics solar chargers.
"Suntactics is more concerned about our long-term relationships with our customers," said Dean Sala, Suntactics Founder and CEO. "And our customers continue to express their appreciation about the quality of our sCharger5 and sCharger12 solar chargers".

"It is a very well made unit, not cheaply made at all".
"Buy this made in USA product if you want something that works".
"The charger works great, is compact and easy to carry/store and it's "green". What more could you ask for? I couldn't be happier with mine".
"It's basically a one-time investment that will pay for itself in battery use and power use".
Suntactics has set the quality and value standard for portable solar chargers with over 5,000 Suntactics solar chargers Made in America with zero defects.
•The dependable and compact sCharger-5 for solar charging smartphones like the iPhone5 and Galaxy S3
•The more powerful and faster dual-port sCharger-12 for multiple devices including tablets, phones or any other USB device
Truly environmentally responsible products designed and Made in America for long-term customer value and everlasting usefulness.
About Suntactics
Suntactics focuses on portable solar and off grid solar energy products. Their current products are a unique 5-watt handheld solar charger called the sCharger-5 for solar charging smartphones like the iPhone and powerful dual port 14-watt solar charger called the sCharger-12 for solar charging multiple remote devices including tablets like the iPad. These compact high power and durable solar power chargers meet the needs for a wide range of portable devices. The units are manufactured in the USA at Fastrak, a veteran owned contract manufacturer. Suntactics is headquartered in San Jose, CA