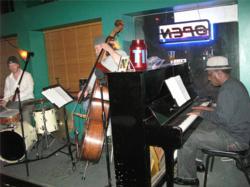 The John A Lewis Trio
Jazz with an edge
Loretta Dunnaway
Singer/ Songwriter
Dallas,Texas (PRWEB) March 12, 2013
With a constant growth in attendance February was a successful engagement for the John A Lewis Trio at the Inwood Lounge and their engagement has been extended through March.
The Inwood Lounge Is located inside the lobby of the historic Inwood Theater in Dallas at 5458 Lovers Lane ave on the miracle mile right on the edge of the Park Cites.
The John A Lewis Trio consists of leader pianist/composer John A Lewis bassist Lincoln Apeland and drummer Merik Gillett, with bassist Jeff Pickering subbing for Apeland on occasions. Jeff is the executive producer for Valarteri Records, the trio's record label.
The trio performs two tight, well-balanced one hour sets every Friday night.
The music consists of standards by such composers as Cole Porter, George Gershwin, Jerome Kern and others. Jazz composers Monk, Duke Ellington, Miles Davis to name a few and bossa novas by Jobim. The trio also performs tunes from their latest critically acclaimed recording "Progenation" which can be purchased through cdbaby.com.
The trio's performances are compelling but not overpowering; you can hold a conversation without raising your voice.
The music performed by the John A Lewis Trio at the Inwood Lounge provides a perfect atmosphere for relaxing after a week of hard work.