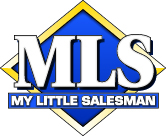 (PRWEB) March 11, 2013
My Little Salesman will exhibit and attend the World of Asphalt at the Henry B Gonzalez Convention Center in San Antonio, TX March 19 - 21. Produced by the Association of Equipment Manufacturers, World of Asphalt is the leading exposition and education resource for the asphalt industry.
My Little Salesman invites all World of Asphalt attendees to booth #215 for demonstrations on new website features and the latest copies of Truck & Trailer and Heavy Equipment. Latest additions to http://www.mylittlesalesman.com include enhanced search rank by location, price, or photos, redesigned registered user interface, and reorganized detail listing.
Territory Manager John Merner, Audience Development Manager Jennifer Petty, and Print Designer Maya Booth will be at the World of Asphalt to share My Little Salesman catalogs and provide demonstrations.