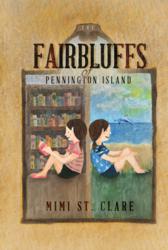 Lynchburg, Va. (PRWEB) March 07, 2013
Liberty University Press has recently released "The Fairbluffs of Pennington Island," by children's author Mimi St. Clare. The book tells the story of 9-year-old twins, Victoria and Elizabeth, and their adventures on Pennington Island. The island, located off the coast of southern Georgia, is home to some very unusual inhabitants.
Valuable messages are woven into the story.
"Strong family values keep the twins grounded not only through their triumphs in life, but through the many predicaments they manage to get themselves into as well," St. Clare said.
She said the novel could become a southern classic for girls ages 7 to 12.
"The Fairbluffs of Pennington Island" is available through Amazon and Barnes & Noble.
About the author:
Mimi St. Clare lives in North Carolina with her husband and writes about the many experiences she and her family had while growing up. She loves Jesus, her children, grandchildren, and many nieces and nephews. She also enjoys traveling, baking bread, gardening, and writing books.
ABOUT LIBERTY UNIVERSITY:
Liberty University, located in Lynchburg, Va., is the world's largest Christian university. Nearly 100,000 students attend classes on its 6,800-acre residential campus and study in its thriving online education program.
ABOUT LIBERTY UNIVERSITY PRESS:
Liberty University Press is at the forefront of helping Christian authors achieve their personal publishing goals. For more news and information on Liberty University Press, visit http://www.Liberty.edu/LibertyUniversityPress.