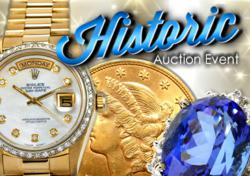 Tehachapi, CA (PRWEB) March 07, 2013
Government Auction's March 9, 2013 auction will feature a California vineyard with tasting room, large collection of gold coins, Rolex watches, jewelry and antiques in this weekend's auction event on the online auction site LiveAuctioneers.com. Bidding in this one day event will start at only $2 on most lots.
Are you a wine connoisseur or ever wanted to have your very own vineyard? Up for auction is a California vineyard that has garnered numerous awards in recent years. The Souza Family Vineyard is located in the picturesque Cummings Valley near Tehachapi California. The vineyards first crush a 2005 Primitivo Zinfandel earned a silver medal at the 2008 San Francisco Chronicle Wine Competition as well as a Gold Medal for its 2007 release. The property boasts of almost 60 acres with a tasting room, with three living quarters that include a Victorian main house, caretaker's cottage and bunk house. The property is also used for weddings, fundraisers, and other special events. Estate highlights include a large gazebo, dance floor, pergola, water fountain, detached bath house with showers, and RV hookups. The cottage and bunk house come fully furnished.
An exceptional Rolex Submariner watch is an auction highlight in the elite timepiece category. The Submariner was first introduced in 1953 and is a favorite with collectors and outdoorsmen alike. Water-resistant up to 100 meters the watch presented is two tone stainless steel and 14kt gold with a steel sundial and lapis blue disc. This watch also comes in the original box with papers of authenticity. Another fine luxury watch is a Two Tone Rolex Daytona. The watch is a stunner with14kt gold and stainless steel throughout. The Daytona series features a cosmograph most popular with professional race car drivers that use the mechanism to measure elapsed circuit time and to calculate average speed.
For gemologist or those looking for a deal on precious gems, a hot lot is a 5.00CT Princess Cut Diamond. The piece is multifaceted to gather the most light at all angles and measures 8.96mm x 9.01mm. The finish is rated as "Very Good Excellent" and the cut is graded as "Excellent".
Offered for auction in the coin category is a highly sought after piece for collectors and investors, is an 1861 $20 U.S. Liberty Head Gold Coin. The "Double Eagle" as the coin is also referred to was minted from 1850 to 1907 during the height of the California gold rush. Of all the gold coins minted before 1907, the Double Eagle had the highest gold content. The coin is composed .96750 oz of pure gold and .100 copper.
The Louis Vuitton handbags has become an increasing popular item for auction liquidation in Government Auction's listings. There are numerous styles offered in Saturday's auction. A standout piece is Louis Vuitton Speedy Golden Arrow Handbag. The purse is mostly brown with black trim and two black leather top handles. The classical LV logo is monogrammed in gold throughout.
Additional auction highlights include a Brass Model 130 NCR Cash Register, Gucci Make-up Bag, 1873 $1 Liberty Head Gold Coin, and more
To view this auction please click the link below
Rolex, Gold Coins and California Vineyard - Saturday, Mar 9, 2013 | 6:30 AM Pacific
https://www.proxibid.com/asp/catalog.asp?aid=63289
For additional information on any lot in the sale, call Debbie on 661-823-1543 or e-mail info(at)governmentauction(dot)com.
About Government Auction
Government Auction was founded as a general resource to buying assets such as jewelry , gemstones, memorabilia, collectibles, art, prints, antiques, and vehicles throughout the United States. Most people don't realize there are hundreds of thousands of assets and valuables that are seized everyday and made available through various resources. Many of these confiscated assets are passed on to us for immediate liquidation. Some examples of how we acquire requisitioned objects are from bankruptcies, IRS, estate sales, trusts, and more.
Government Auction is the largest company of its kind and the only one in the United States that works closely with these agencies to acquire literally thousands of assets and confiscated goods, such as Ruby Gemstones, Sapphire Rings, and Men's President Rolex Watches, Mercedes Benz, and Gold Coins. In most cases we acquire these treasures at a fraction of their actual retail value. Once acquired these items are liquidated through the auction site. Clients are made up of just the everyday person who wants to buy a Diamond Bracelet, Pearl Strand Necklace, Sterling Silver Pink Sapphire Earrings, Oval Cut Emerald Gemstone Parcel, Remington Bronze Reissue at an unbeatable price.
All assets that we offer are normally at a 30% - 60% savings to the client. What this means is consumers are making a good investment immediately. By purchasing assets cheaply people can make a sizeable profit if they decide to resell it later on.
Government Auction is one of the most reputable jewelry and gem clearinghouse company in the U.S., with over 20 years of experience.