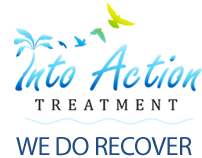 Boynton Beach, Florida (PRWEB) March 07, 2013
Every 6-8 weeks, Into Action Treatment has a family weekend, which is a time when the clients' families come down and visit the center and learn about the disease of addiction and how to support their family member in recovery. This is a very exciting time for everyone, including the staff, as they get to see the families that were once torn apart during drug addiction start the healing process. "Addiction is a family issue and it is very important that the families of our clients come down and learn how to live with healthy boundaries," said Andrey Rossin, founder and CEO of Into Action Treatment.
The reason family weekend is such an integral part of the program is because it begins the healing process. The clients come down to Into Action Treatment drug rehab in South Florida, from all over the world and country. They leave behind everything, their lives back home and their families. This is an important part of the healing process, as they must learn to live a life of sobriety, and moving away from the distractions and triggers of their hometown helps them start fresh.
"The reason we love doing what we do, is because we get to see the healing first-hand, and that is such a fulfilling thing to see. Our clients come down and do the work necessary to heal and grow," said Rossin. They get letters and phone calls all the time from thankful family members, where they are so grateful for the center and the change they were able to create in their lives. Recently, they got a nice letter from 2 proud parents whose child completed the 45 day treatment program at Into Action. Here is what they had to say:
" Just wanted to say thank you all for your great work. The weekend we spent with you and your staff was amazing and uplifting. The concept of what you do every day for your clients and their families is nothing short of fantastic. The 2 years we spent trying to help our son overcome his addiction through the institutional rehab centers, was nothing short of disappointing. Your devotion to the one on one concept of recovery and family awareness, for the first time brought hope to our son that he can move forward with his life without the crutch of addiction. Special thanks to Monica for reaching out to the family and keeping that connection open. Also to you, Andrey for all you did by going above and beyond what anyone would expect, to make that family weekend possible. Keep up the great job you do daily and feel free to contact us if there is anything we can do to help you continue mission and vision of recovery. With much thanks and appreciation," Brian and Anita L.
Andrey Rossin and the staff receive letters like this all the time, but they never get old to here. "These types of letters are part of what inspire us day in and day out to keep doing the intensive work that we do with and for our clients. Without success stories like these, it would be hard to see the face of addiction everyday."