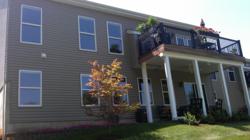 We are very happy with the work that was done by Mirnes from Clean Care. We will DEFINITELY be using this company again and recommend them to anyone.
St Louis, MO (PRWEB) March 09, 2013
Clean Care Exterior Solutions, a three-year old residential window cleaning company in St Louis, has recently launched a new website for local homeowners to get advice about window cleaning at their own homes. The website also explains how the company can provide those services at a reasonable price.. with one of the most extraordinary guarantees in the industry!
"Clean Care Exterior Solutions prides itself on offering a 100% satisfaction guarantee and clients won't have to pay until they are completely satisfied," stated Mirnes Beganovic, owner of the company. "I even offer $49 cash, in addition to free cleaning if we're simply not what the homeowner was looking for - to my knowledge, no other company in St. Louis offers this type of guarantee!"
Mr. Beganovic formed the company in 2010 after several corporate clients asked him about residential window cleaning. He previously ran a commercial cleaning company with a variety of services, such as polishing floors and general maintenance, but Mr. Beganovic wanted to focus attention toward residential window cleaning services.
"After thinking about my experience in the commercial cleaning industry, I realized that I like working at a more personal level with my clients," he said. "My services have expanded from residential window cleaning because I just recently started to offer pressure washing and gutter cleaning services to my clients throughout St. Louis."
To help promote his new services and thank his current client base, Mr. Beganovic has started a referral program at Clean Care Exterior Solutions. Customers in towns like Chesterfield, Glencoe and Ladue can receive 20% off their next service for each their referrals that become new clients. For those clients that like to refer a lot, this means they could receive their next cleaning service free of charge if five of their referrals become paying clients. The company has seen a steady growth since offering this referral program. This just adds another way for Clean Care Exterior Solutions to thank their clients for doing business with them.
"Mirnes was very professional, courteous and worked so quietly - I hardly knew he was here," said Kathy Gatheman of Chesterfield, MO. "My windows are sparkling clean.. I am a very happy customer who is already looking forward to another cleaning in the Fall."
Clean Care Exterior Solutions has a seven-step process when it comes to residential window cleaning in St Louis. First, the screens are removed from your windows, hand washed and set to dry. Then, the visible cleaning begins, removing cobwebs and loose dirt from the window sills.
Depending on how long it has been between cleanings, Beganovic says that the company will use a combination of cleaning solutions and professional window scrapers to safely remove unwanted elements, such as paint and debris. Then the windows are washed again, making sure the frames and sills are completely clean. Finally, the screens are placed back in the windows.
"It may take a little bit longer than some other cleaning services," Beganovic states. "But my philosophy is that you should take pride in your work, avoid shortcuts and take your time to do it right the first time."
The owner of Clean Care Exterior Solutions knows about taking one's time and having pride in one's own work, especially when he switched career paths after arriving in the United States. After his family moved to St. Louis from Bosnia-Herzegovina in 2001, Mr. Beganovic attended St. Louis Community College to pursue a career in graphic design. However, he quickly realized that he wanted to patiently attend to a client's needs, but away from a desk.
After working for several companies in St. Louis, he decided to start his own commercial cleaning company, Beganovic Cleaning LLC. The company started to work toward residential window cleaning services and that developed into gutter cleaning, pressure washing and house washing services. But now, Clean Care Exterior Solutions takes care of residential clients throughout the metropolitan area.
"We work in neighborhoods from Chesterfield to Ladue, from Kirkwood to Hazelwood, and many other areas throughout St. Louis," Beganovic said. "With just a simple phone call to Clean Care Exterior Solutions, we can get your windows cleaned in no time!"
To check out the new website, visit http://WindowCleaningStLouisMO.com. You can contact Clean Care Exterior Solutions through the company's website or call 314.222.0468.
About Clean Care Exterior Solutions:
Originally as a residential window cleaning company in St. Louis, the company now offers gutter cleaning services, pressure washing as well as exterior house washing. You can read more information at http://windowcleaningstlouismo.com.