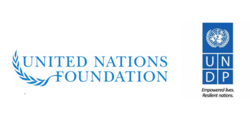 Washington, DC (PRWEB) March 07, 2013
On Tuesday, March 12, 2013 at 2:00 p.m. EST United Nations Foundation VP of United Nations Relations will host a press teleconference with Khalid Malik, the author of the 2013 Human Development Report, to share and discuss the Report's findings. Citations from teleconference may be used in media reporting on the 2013 Report any time after the global release of the Report on after 12:00 PM /4:00 PM GMT on March 14th, 2013.
Who: Susan Myers, Vice President for UN Relations, UN Foundation (moderator)
Khalid Malik, Lead Author and HDR Office Director
William Orme, HDR Communications Chief
When: Tuesday, March 12, 2013 at 2:00 p.m. EST
How: Accredited media may dial 1-800-351-4872 (U.S.), 08000-288223 (UK), 1-888-259-2914 (Canada), 1-334-323-7224 (International). Passcode: HDR
Please RSVP to Darley Tom at dtom(at)unfoundation(dot)org.
The UN Development Programme (UNDP) will launch its flagship Human Development Report for 2013 on 14 March in Mexico City, with Mexican President Enrique Peña Nieto and UNDP Administrator Helen Clark. The report this year is titled "The Rise of the South: Human Progress in a Diverse World." We will at the same time release our Human Development Index, which is widely cited worldwide and recognized as a unique and authoritative benchmark of how well individual countries are serving the needs of their citizens.
Among its findings, the 2013 Report shows how and why:

Development is happening at a pace unprecedented in human history, with hundreds of millions of people being lifted out of poverty in developing nations and billions more poised to join a new "virtual" global middle class.
A new set of countries, including —Bangladesh, Indonesia, Thailand, Vietnam, Korea, Malaysia, Mexico, Chile, South Africa, Ghana, Uganda, Rwanda, Mauritius, and Turkey are among the human-development high achievers highlighted in the report.
This marks a profound shift - Cooperation is increasing and regional institutions are serving needs previously met by global institutions such as the World Bank, IMF, and the United Nations itself, all of which must become more representative of this fast-changing world if they are to remain relevant.
Millions still faces shared serious long-term challenges—aging, environmental pressures, social inequalities, and meaningful civic engagement. These require national and global solutions if developing countries are to maintain their human development momentum.
The first Human Development report in 1990 was pioneered by the late economist Mahbub ul Haq and Nobel laureate Amartya Sen. It declared that "people are the real wealth of a nation." By backing up this assertion with empirical data and a new way of thinking about and measuring development, successive HDRs have exerted a profound influence on policy and planning around the world, from development agencies and civil society to the private sector.
Embargoed reports and interviews:
Embargoed copies of the report, summary, and country notes are available as of 6 March.
Please advise us of your interest in access to the embargoed 2013 Report and press materials sites and pre-launch interviews with UNDP Administrator Helen Clark, Human Development Report Office (HDRO) Director Khalid Malik, or regional experts from the HDRO office.
####
About the United Nations Development Programme
UNDP partners with people at all levels of society to help build nations that can withstand crisis, and drive and sustain the kind of growth that improves the quality of life for everyone. On the ground in 177 countries and territories, we offer global perspective and local insight to help empower lives and build resilient nations.
About the United Nations Foundation
The United Nations Foundation builds public-private partnerships to address the world's most pressing problems, and broadens support for the United Nations through advocacy and public outreach. Through innovative campaigns and initiatives, the Foundation connects people, ideas, and resources to help the UN solve global problems. The Foundation was created in 1998 as a U.S. public charity by entrepreneur and philanthropist Ted Turner and now is supported by global corporations, foundations, governments, and individuals. For more information, visit http://www.unfoundation.org.