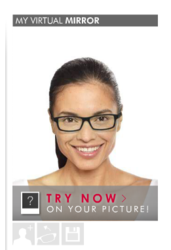 San Francisco, CA (PRWEB) March 15, 2013
Premier provider of Web-based marketing solutions, Marker Seven, has launched an e-commerce website for fashion eye-wear start-up, Flutter. The project required both high-tech and low-tech solutions to create a unique and delightful shopping experience while also breaking down barriers to sales.
"Our mission is to recast your grandmother's dowdy glasses into a style-changing accessory of polished elegance," say co-founders Gayle Haworth and Patti Lee Hoffmann at Flutter. "Our site not only has to effectively display our products and function as our primary retail vehicle, it must also reach our target audience with the message that choosing our optical-quality, fashionable eye-wear should be as enjoyable as coordinating shoes or jewelry."
To help customers purchase great-looking reading glasses that are a perfect fit, Marker Seven implemented an innovative filter for Flutter's products that organizes frames by different face shapes and sizes. In addition, a "My Virtual Mirror" tool was created that allows customers to upload a picture and preview how frames will look on their own faces.
The website uses the Magento e-commerce platform, Fitting Box FitPhoto solutions for the virtual try-on and paper doll cut-outs of Flutter's frames. Because the website is Flutter's primary retail vehicle, Social Media, Inventory, Quickbooks and E-Gift Cards functionality was integrated into the design. "We used an elegantly simple 'less is more' approach that expresses the company's contemporary fashion sense for the visual design of Fluttereyewear.com," says Scott Abbott, Creative Director at Marker Seven.
"We asked for, and Marker Seven delivered, a delightful shopping experience against a beautiful, elegant, understated, easy-to-read backdrop. Marker Seven designed a pitch-perfect website for Flutter," says Haworth and Lee-Hoffmann "Our sales team is telling us that the site is making the right connections with women in our target audience."
About Flutter
Flutter aims to provide women with gorgeous, optical-quality eye-wear that not only fits perfectly but completes and enhances their entire ensemble. Using the latest high and low-technology tools, Flutter's customers will know exactly which pair of glasses works best for them. Visit http://fluttereyewear.com/ to learn more and shop.
About Marker Seven
Marker Seven is a boutique web development agency, founded in 2000 and based in San Francisco, that creates online marketing and e-commerce solutions for clients ranging from leading regional businesses to Fortune 500 companies. For more information visit http://www.markerseven.com.
Phone:
415.447.2841
Fax:
415.447-2860
Address:
300 Beale Street, Suite A
San Francisco, CA 94105