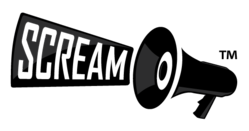 We would not open another store without including the SCREAM™ product. It is really helping to manage our multi-unit operation.
Los Angeles, CA (PRWEB) March 12, 2013
On March 1st, DTT announced the launch of a groundbreaking customer feedback tool, SCREAM™. SCREAM™ is accessible through DTT's enterprise portal, MyDTT™, and allows restaurant operators to receive and respond to customer comments instantly and very simply by text message and/or email. With marketing posted prominently throughout participating stores, patrons are able to text their questions, comments, or complaints to the owner/manager directly.
After a very successful 3-month pilot in 30+ locations, DTT decided to launch the service company-wide. McDonald's owner operator, Conny Kramer, tested the product in 8 of her stores and will be rolling it out into all 14 this month. "We are very excited about the program. The feedback we get from customers via text is a lot more effective than what we have received in the past with other programs. This is an opportunity to hear directly from customers and tend to their concerns immediately. We would not open another store without including the SCREAM™ product. It is really helping to manage our multi-unit operation," said Conny.
Cold Stone Creamery operator, Scott Knepper, tested the service in all of his Cold Stone units. "I have nothing but good things to say about the program," said Scott. "Customers do a good job of pointing out areas of improvement at the stores. It's a great tool and opportunity for me to communicate with them directly," he added.
"This is a really exciting time for us at DTT. We are very proud to be launching such an innovative product and know that our customers will quickly recognize the value in creating a direct line of communication with their own customers and will appreciate the ability to manage the whole program from our online portal, MyDTT™. The feedback we received from our pilot customers was outstanding. This is yet another differentiator for us as the industry leader in video surveillance, loss prevention, and managed services, said Sam Naficy, President/CEO for DTT. "I look forward to seeing SCREAM™ in restaurants all over the country!"
About DTT
Headquartered in Los Angeles, California, DTT provides digital video surveillance solutions to the restaurant and hospitality industries. DTT was founded in 1999 by Sam Naficy, leveraging the power of emerging digital technology to support the needs of a broad base of clientele. Since first launched, DTT has equipped, serviced and supported more than 27,000 clients. Every day, software provided by DTT protects trillions of dollars in assets and oversees nearly 2 million employees. Some of the world's most popular and respected restaurant brands use DTT including McDonald's, SUBWAY®, Dairy Queen, Burger King, Dunkin Brands, Taco Bell, KFC, Auntie Anne's, and Potbelly Sandwich Works, to name a few. Please visit http://www.dttusa.com for more information.