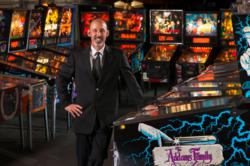 Anaheim, CA (PRWEB) March 08, 2013
Captain's Auction Warehouse, an auction house that specializes in auctioning historic coin operated pinball arcade games is set to conduct one of its largest auctions on Saturday, March 9, 2013 and the auction is being held online. According to Captain's Auction Warehouse owner Chris Campbell "There haven't been this many pinball machines being offered in a one day auction in more than ten years. Without any doubt, this weekend's game room auction will be setting pinball sales records!"
The upcoming auction is sure to catch the attention of pinball and video game aficionados from around the world, especially those in their 30's, 40's and 50's who grew up with these games and hold fond memories of spending countless hours and a lot of money playing them. Campbell is affectionately known to his friends and business associates as Captain Chris and his ultimate goal is to make sure that every home in America has a game room filled with classic games that everyone in the family can enjoy. The auction will feature over 500 lots of coin operated arcade games, pinball machines, juke boxes, pool tables and many other items one would find in a traditional arcade. Captain Chris expects this auction to attract the attention of members of Generation X, especially parents who want to get a piece of video game history to let their children experience what life was like before the X-Box and modern video games. Chris also foresees men if a certain age bidding often to decorate their prized "man caves."
Captain Chris began his auction house in response to the demise of the American arcade industry. According to Chris there was once over 13,000 arcades in North America at the height of Pac Man fever in the early 1980's but today there are hardly any left as technology allowed video game consoles to be brought in any home. Even though many old arcade machines were destroyed once they were no longer operational or after they have outlived their profitability, Campbell was able to salvage many of these machines and refurbish them. Now that the arcade game generation is grown up with disposable income and their children have rediscovered the joy of these games, it is the perfect time to bring them to the attention of the bidding public.
The auction will be conducted in full retro mode with one of the edgiest auctioneers in the business and the spirit of the Pinball Wizard blessing the proceedings. Winning bidders will find themselves with a piece of history that helps them revisit those great childhood memories but this time without the need for countless quarters. One of the more unique aspects of the auction is that bidders from around the world will be able to bid and then have their winning machines shipped anywhere in the world. The online nature of this auction ensures that this will be a truly global event.
ABOUT CAPTAIN's WAREHOUSE AUCTION
Captain's Warehouse Auction was founded in 1999 to provide both live and online auctions for coin-operated amusement equipment enthusiasts. The company also operates a full-time amusement and support equipment sales location and provides freight forwarding services.