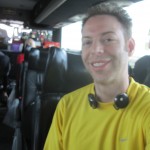 "This is Doyle. He's our bus driver. We wrote all over the windows in dry erase marker, but he didn't understand what dry erase was."
Austin, TX (PRWEB) March 07, 2013
One of many events surrounding the popular SXSW 2013, StartupBus is a competition involving teams of entrepreneurs from across the U.S., brought together on one of six buses, each with a goal of conceiving, building, and launching a startup in approximately 72 hours.
Zachary Price, a Chicago-based entrepreneur and member of the StartupBus MidWest Team, is guest blogging his experience on the StartupBus on the Bplans "Up and Running" Blog via a series of posts titled, "Live From the StartupBus," which will run through early March 2013.
Price's blog posts include his enthusiastic and often humorous take on the experience of launching a business under an extreme timeline, with a group of strangers (each a startup expert in their own right) and culminating in a launch at SXSW beginning March 11. The concepts are innovative, the egos are big, the nights are sleepless, and the tensions are high, but everyone involved is there in the spirit of entrepreneurship and the series of blog posts illustrates the amount of energy and excitement surrounding the event.
Photos from the road and additional StartupBus MidWest Team activity can be found on Twitter using the hashtag #StartupBusChi and highlights from the Twitter conversation will be included in Price's series on the Bplans blog.
About Bplans
Bplans contains the largest single online collection of free sample business plans as well as helpful tools and know-how for managing a business. Bplans includes practical advice on planning, interactive tools and calculators, and a panel of experts who have answered thousands of questions from entrepreneurs, startups, students, and business leaders. Bplans has won several awards as a valuable "plain talk" resource. Bplans is owned and operated by Palo Alto Software, Inc. as a free resource to help entrepreneurs plan better businesses. Palo Alto Software develops, publishes, and markets award-winning software, including LivePlan - its flagship online business planning and management tool. Bplans products offer task-oriented, "know how" solutions for small-business and home-office entrepreneurs, professionals, and middle managers. The company is a privately-owned corporation in Eugene, Oregon.