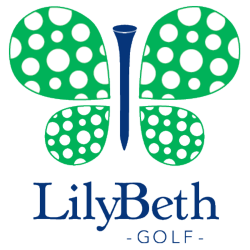 LilyBeth Golf's signature accessories transcend the ordinary 'pinks and yellows' to create special statement pieces that are sure to add both style and flair to the golf wardrobes of serious golfers and avowed fashionistas everywhere
Orlando, FL (PRWEB) March 08, 2013
LilyBeth Golf, an Orlando-based company that offers golf products and golf accessories for women, has announced a new partnership with Quest Products, a diverse consumer products company based in Gurnee, Ill. This partnership, which serves to increase the reach of LilyBeth Golf, is being announced in conjunction with a new program for retail golf clubs and shops that wish to merchandise the stylish and functional line of ladies designer golf gloves, head covers, balls and tees.
Founded by long-time golfer Elizabeth Gamber, LilyBeth Golf fills a gap in the market for golf products created solely for women. The company offers an ever-expanding range of women's golf accessories, including tees, club covers, golf balls and gloves, with one-of-a-kind prints – each designed by Gamber with the female golfer in mind. Gamber cites her own difficulties in finding products for women that offer both fashion and functionality as the reason for starting her company.
"As an avid golfer myself, I've experienced firsthand the difficulties that women face when trying to find quality golf accessories that are also stylish and well-designed," says Gamber. "LilyBeth Golf's signature accessories transcend the ordinary 'pinks and yellows' to create special statement pieces that are sure to add both style and flair to the golf wardrobes of serious golfers and avowed fashionistas everywhere."
On the LilyBeth Golf website, customers can find LilyBeth's signature item: the ladies' buckled golf glove. This glove was designed specifically to fit a woman's hand and features a unique silver buckle that makes the glove adjustable for a customizable fit. It also features ventilation along each finger to keep the hand cool. LilyBeth Golf also offers the women's tee glove, which includes a small strap that can hold one golf tee for easy access.
"Made from premium Cabretta leather, this unique glove conforms to your hand and the built-in ventilation makes for a cool, comfortable fit," says Gamber of the buckled golf glove. "The high-quality silver buckle hardware, set atop an easily adjustable touch fastener, adds both originality and sophistication to this signature piece and brilliantly complements the glove's whimsical prints."
LilyBeth Golf will be kicking off its new partnership with Quest Products by showcasing its line of preppy-chic designs at this year's Golfweek's Golfest in The Villages, Fla., March 8-9. LilyBeth Golf products will be on display and available for purchase at the event, which is expected to attract approximately 10,000 golfers.
For company information, including details about wholesale and retail programs, visit LilyBeth Golf on the web at http://www.lilybethgolf.com or call 800.650.0113.
About LilyBeth Golf
Sporty, feminine and fun, LilyBeth Golf is a high-fashion, high-function line of preppy-chic golf accessories created exclusively with women golfers in mind. Designed by Elizabeth Gamber, LilyBeth Golf's high-end accessories include Cabretta leather gloves, matchbook tee sets and imprinted balls and club covers and are available online and at resorts and golf shops. An avid golfer herself, Gamber took full advantage of her background in fashion and her experience working for several women's fashion lines to start LilyBeth Golf. More than just a loving nickname given to Gamber by her grandmother, LilyBeth – and its signature butterfly tee logo – reflect femininity as well as the designer's love for both golf and fashion.