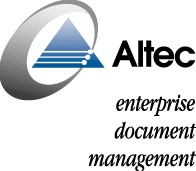 Laguna Hills, CA (PRWEB) March 12, 2013
Altec Products, Inc., announced today their Gold Sponsorship at the Microsoft Convergence Conference in New Orleans, LA March 18 – 21, 2013. This premier international meeting place for the Dynamics community provides a unique environment for partners and customers to come together in a collaboration of community, innovation and global marketplace ideas. Convergence provides the environment to gather the knowledge needed to move business ahead and stay abreast of the latest strategies and technologies.
Altec, as a 10+ year Microsoft ISV (Independent Software Vendor), will showcase their solution, doc-link™, which provides seamless integration to Microsoft Dynamics GP, SL, NAV and AX, as well as other popular mid-market financial accounting packages. doc-link allows for paperless processing of accounts payable, accounts receivable, sales order and other accounting and non-accounting enterprise processes. Altec works closely with the Dynamics partner channel and provides webinars, sales and marketing resources, training and support.
One of Altec's premier Microsoft Dynamics customers, Sta-Home Health & Hospice (Sta-Home), is a home health and hospice provider in the state of Mississippi that currently employs 931 people. Their 32 branch office locations across the state are the hubs for employees that serve homebound patients. Keeping track of employee records is critical in this highly regulated industry.
In 2008, Sta-Home's accounting department purchased Altec's doc-link integrated to Microsoft Dynamics GP to improve its AP processes and eliminate the massive amounts of filing in the finance department. Recalls Nancy Dunn, Human Resources Information System Administrator, "Each month, over 15,000 HR-related documents were being manually filed. Sta-Home moved these paper documents off-site using expensive paper storage services. Courier services and paper storage were significant expenses for the company."
The company now plans to expand their use of doc-link outside of HR into other areas of their business. The executive staff at Sta-Home was supportive of this project because it was clear that doc-link would reduce expenses, create greater efficiency, provide ease of use, and reduce risk when surveyed by the Mississippi Department of Health. Sta-Home plans to roll out doc-link next in their Business and Administrative Department. "We have lots of company-held teaching credentials, certifications and licenses that should be archived, including business agreements, contracts and meeting minutes. The applications with doc-link are endless," testifies Dunn.
At Convergence, Altec will also share the power of the Smart Form Toolkit, which provides the ability to configure electronic forms for processing or creating new documents. Smart Forms are easy to use and can extend to all areas of the business. These customizable windows can be used to create, index and retrieve documents, as well as structure business processes.
Merri Jo Cleair, Product Manager at Altec added, "We have many Dynamics clients using Smart Forms for the creation of expense reports, credit card reconciliation, and streamlining HR onboarding." She adds, "This module gives the Dynamics community the flexibility to easily customize and automate their unique business processes throughout the entire organization."
Altec will be at booth #623 at Convergence.
Altec Document Management Sessions
Title: Keeping Up with the ISV's
Tuesday, March 19: 3:30 pm - 4:30pm in room 346-347.
Title: Go Paperless with doc-link by Altec – The Key to Enterprise Efficiency
Thursday, March 21: 1 pm – 2 pm
About Altec
Altec is a leading provider of Integrated Document Management (IDM) solutions to mid-market companies. For more than 25 years, Altec has provided a wide range of accounting-centric paper to paperless solutions including its flagship product, doc-link™, which enables companies to capture, archive, workflow and route structured and unstructured documents to customers, employees and vendors. Altec's comprehensive solutions include IDM, output management, MICR check disbursement and paper documents that serve more than 13,000 customers worldwide. Altec enjoys strong, collaborative partnerships with ERP solution providers such as Microsoft Dynamics to provide the most comprehensive, integrated enterprise document management solution. Altec delivers its IDM solutions through a global network of authorized partners in more than 60 countries throughout the Americas, EMEA and Asia Pacific. Visit Altec at http://www.altec-inc.com, or call April Blankenship at 1-800-997-9921.
###