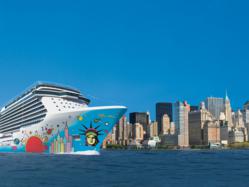 Salem, NH (PRWEB) March 11, 2013
Cruise Travel Outlet has been one of Norwegian Cruise Line's leading wholesalers for the past twenty-two years, maintaining a respectable position in Norwegian Cruise Line's Presidents Club for the past fifteen years. Norwegian Cruise Lines has recently announced their newest addition to the Norwegian Cruise Ship fleet: Norwegian Breakaway, scheduled for delivery April 2013. The NCL Breakaway is the largest cruise ship to ever be built in Germany, and will be the largest ship to ever home-port in New York City. The NCL Breakaway successfully floated out of the building dock in Papenburg last month en-route to its year round home-port of New York City.
In the past decade, Cruise Travel Outlet has seen a tremendous increase in the demand for cruises from Boston, specifically with Norwegian Cruise Line. Norwegian Cruise Lines is currently the only cruise line offering Boston to Bermuda cruises. Geographically, it is easy to see why this particular itinerary is so convenient for the majority of Cruise Travel Outlet's clientele. However, the Norwegian Breakaway's New York to Bermuda itinerary satisfies a growing demand for Bermuda cruises from New York.
"I don't believe this peak in interest of cruises from New York is a coincidence; clients are eager to get on the Norwegian Breakaway!" exclaims Julie Walsh, Cruise Travel Outlet's Marketing Director. She goes on to explain, "Although New York is a little further from home than Boston for some of our clients, we are making an extra effort to get those clients to New York and make their Norwegian Breakaway experience as carefree as possible." For the convince of their clients, Cruise Travel Outlet is offering a bus out of Braintree, MA to New York City so their customers can experience the NCL Breakaway without the hassle of driving or flying to New York.
NCL Breakaway will be broadcasting three award-winning, live Broadway shows: Rock of ages, Cirque Dreams Jungle Fantasy and Burn the Floor. There will be plenty to do for kids of all ages aboard the NCL Breakaway; with the fastest water slide at sea, a 3 story sports complex, the biggest ropes course at seas, Nickelodeon fun, kids' aqua park and more, kids will experience endless entertainment! Grown ups can escape to the Vibe Beach Club, and dance the night away at the adult only nightclub, Spice H2O. Norwegian Breakaway's godmothers, The Rockettes, will be at the inaugural sailing to wish the ship a bon voyage!
Following inaugural events, Norwegian Breakaway will sail a series of twenty-two, seven-day cruises from New York to Bermuda beginning May 12, 2013 through October 6, 2013. Julie Walsh says she is lucky enough to be one of the first to experience the NCL Breakaway. "Be sure to stay tuned to our Facebook page for an inside look on this magnificent ship!" Walsh adds. Cruise Travel Outlet will be posting their pictures from the Norwegian Breakaway Inaugural sailing upon its return; for an inside look be sure to "Like" Cruise Travel Outlet at: Facebook.com/cruisetraveloutlet.