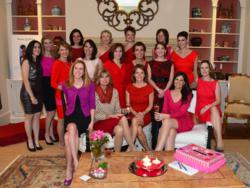 By leading the way to inspire women in our community to serve our most vulnerable children, we can make a difference." - Cathy Lefar, Society Co-Founder.
Atlanta, Georgia (PRWEB) March 08, 2013
A group of women committed to helping children in their local community came together to host a fundraiser for Make-A-Wish® Georgia. The W.I.S.H. Society – the acronym standing for Women Inspiring Strength and Hope – is a newly formed initiative, under the umbrella of Make-A-Wish Georgia, targeted at inspiring women in the local community to partner with Make-A-Wish to make a difference in the lives of children battling life-threatening illnesses. Under the leadership of founding members Cathy Lefar, Hilary Hill, Carol Martens, Jennifer Helfman, and Jane Hennessy, this powerful leadership network of women was launched in 2012.
The W.I.S.H Society's signature fundraising event, 'An Evening of Hearts and Wishes,' was held in the private home of Phil and Carol Martens on February 9, 2013. Nearly 250 guests attended the event, which highlighted three families who had recently completed their wish experiences. Trenton Harris, a 13-year-old boy, currently in remission, shared the excitement of his wish for a shopping spree. Fourteen-year-old John Willis shared his story of courage, battling lymphoma while awaiting his father's return from his tour of duty in Afghanistan, so that he could experience his wish trip to see a live volcano as a complete family; and sixteen-year-old Chip Madren's father spoke of how Chip's wish for a fishing trip to the Florida Keys truly impacted their family and aided in Chip's recovery. Attendees at the event made personal contributions totaling $92,000. "I am both excited and very grateful for the impressive leadership and work of these incredible women. Their special efforts fund wish experiences that prove to seriously-ill children that anything is possible. Such magical moments truly provide hope, strength, and joy when they are needed the most by our wish kids and their families," said John J. Brennan, Make-A-Wish Georgia CEO.
Committee members recruited assistance from the local business community to support their efforts. A Legendary Event, Novelis, Worthmore Jewelers, Village Podiatry Centers, Swoozies, Northwest Distribution and Storage and Privét Valet Parking all served as sponsors and in-kind supporters of the event, allowing the evening to assume no overhead expenses. 100% of the funds raised will go directly to Make-A-Wish Georgia. The W.I.S.H Society membership includes: Rachelle Capes, Sandy Dawson, Shannon Erbs, Rey Floyd, Leslie Flynn, Jen Helfman, Jane Hennessy, Hilary Hill, Cathy Lefar, Carol Martens, Kerry Miller, Kristina Newby, Lisa Stroup, Kelli Tracy, Jill Ullman and Claire Wire. "Our members will help us continue to grow this women's leadership initiative into a year-round engagement opportunity for female leaders in our community who want to connect with Make-A-Wish. By leading the way to inspire women in our community to serve our most vulnerable children, we can make a difference," said Cathy Lefar, Society Co-Founder.
About Make-A-Wish®
Make-A-Wish grants the wishes of children with life-threatening medical conditions to enrich the human experience with hope, strength and joy. With the help of generous donors and over 30,000 volunteers worldwide, Make-A-Wish grants a wish somewhere in the world every 23 minutes and has granted over 280,000 wishes since its inception in 1980. The Georgia Chapter of Make-A-Wish has granted over 5,000 wishes locally and has over 600 children waiting for their most heartfelt wishes to come true. To learn more about Make-A-Wish Georgia, please visit http://georgia.wish.org, connect with us on Facebook at http://www.facebook.com/makeawishgaal and follow us on Twitter: MakeAWishGA.