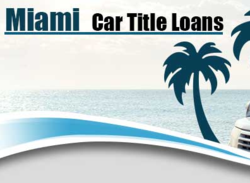 Miami, FL (PRWEB) March 15, 2013
Miami Car Title Loans just expanded their marketing department this month by 20% and implemented new marketing strategies to connect with more Miami residents. Although the company serves more and more applicants each day, it does not believe it has adequately reached all the people in the Miami area who are in need of a loan. There are over 98,000 families in the city below the poverty line who live paycheck to paycheck trying to meet their basic needs. Although rarely mentioned in statistics, citizens who live above the poverty line struggle as well. Miami Car Title Loans wants to reach out to Miami residents of every economic status and offer a service that will open doors and bring financial relief to those who have hit rough patches in life.
Many people cannot get loans from banks when they need them because they do not pass credit checks. Some have built up bad credit after being hit hard by the bad economy, and many young adults fresh out of college have not had a chance to build up credit at all. Auto equity loans bypass the credit check process completely, because the amount of money loaned is completely dependent on vehicle value—not credit. In this way, people can take out a loan regardless of their credit history. So why don't more people turn to auto equity loans when they need money after they are hit with a sudden medical emergency or immediate home repairs?
The company's marketing department discovered most Miami residents either don't know what auto equity loans are, or have a negative misconception of them. Floridians bounce around words like, "scam", "repossession", or "unfair payment plans." They miss the fact that auto equity lenders do not want to repossess cars, nor do they want to rip people off. Lending companies actually work closely with borrowers to set up payment plans that suit their specific financial needs so they don't bite off more than they can chew. The customer service members work in the industry to help good people get out of financial binds, so they explain the conditions and terms of the loan until the borrower is completely informed.
Knowing the grand misconception surrounding auto equity loans, the Miami Car Title Loans marketing department is implementing a new marketing strategy this year to better inform Miami residents about auto equity loans, and advise how one can use them to improve his or her financial situation. With any luck, the new marketing changes will help more people in the Miami better understand auto equity loans, and discover that it might be a good solution when struggling with unexpected financial burdens.