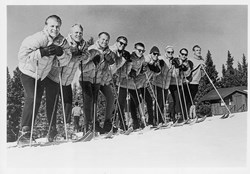 Late-season visitors to Vail, Colo., will find plenty of special festivities – many of them free.
Vail, Colorado (PRWEB) March 08, 2013
Celebrating Vail's 50th anniversary remains the name of the game for the 2013 Vail ski season, right through its April spring skiing finale. Late-season visitors to Vail, Colo., will find plenty of special festivities – many of them free, say the insider Vail travel experts at the Antlers at Vail hotel. The April fun ranges from a new Nordic twist on the venerable Taste of Vail's 22nd year through a tricky closing day event featuring "floatable athletes" launching from snow to icy pond. To keep all those good times company, the Antlers at Vail is offering a 30-percent discount on its lodging rates for the month of April, bringing the rate for a studio suite below $200.
To accompany their April lodging deal, travel experts at the Antlers also recommend these five reasons to enjoy their home resort this April:
1) Taste of Vail – the iconic spring food and wine festival turns 22 this year, showcasing the area's finest chefs and nation's top vintners. A new Nordic Wine Tour kicks off the Taste with cross-country ski/snowshoe wine and cheese stations on the Vail Golf Course. April 3 – 6. Event tickets start from $50.
2) Spring Back to Vail Celebration – a week-long end-of-season bash in honor of Vail's 50th, featuring free live concerts including reggae legend and Grammy-winner Jimmy Cliff, performing April 14 at the Solaris Plaza in Vail Village. April 8 – 14.
3) 50th Anniversary Film Night – a look back at Vail's 50 years in film from Roger Cotton Brown, who created the first ever promotional film about Vail in the early 60s. April 4 and 11. Show is free with ticket, available at Lionshead Vail Welcome Center from 9 a.m. on the day of the show only. Film starts at 5:30 p.m.
4) Skiing Heritage Week – a U.S. Ski and Snowboard Hall of Fame induction ceremony April 13 is a highlight in a week of events that also includes the Ishpeming International Film Festival of classic ski movies. April 8 – 14. $350 for the All-Access Pass.
5) Vail World Pond Skimming Championships – thousands watch as costumed skiers and snowboarders vie for fame and glory as they attempt to clear a 100-foot, ice cold pond in this wacky annual close-of-season event. April 14. Lake Golden Peak at Vail Mountain's Golden Peak Base Area. Free to watch; $75 to participate.
Antlers at Vail is offering a special April spring skiing discount of 30 percent off regular rates for the month, with a $285/night studio suite available for $199. Check the Antlers at Vail website calendar or chat with Antlers staff for additional events – from family snowshoeing to a Segovian pig roast – to accompany an April Vail visit.
Company Information: Since 1972, the Antlers at Vail hotel has offered a unique Vail lodging experience in a relaxed mountain setting. The Antlers is the proud recipient of the Platinum Service Award from the Vail Valley Partnership and was recently named the Vail Valley Green Business of the Year. With condominiums ranging from studio suites up to four bedrooms and plenty of space to spread out, each room at the Antlers offers all the comforts of home including fully-equipped kitchens, fireplaces, outdoor balconies, free Internet access and free parking. The Antlers Vail is conveniently located in Vail's Lionshead area with numerous restaurants, galleries and shops within walking distance, and the free Vail town shuttle stops just footsteps away. For more information, call 1-800-843-8245 or visit the Antlers web site at http://www.antlersvail.com.
Media Contacts: Rob LeVine, General Manager, The Antlers at Vail, RLeVine(at)antlersvail(dot)com, 970.476.2471; Darla Worden, WordenGroup Public Relations, darla(at)wordenpr(dot)com, 303.777.7667