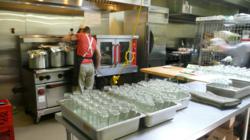 This event is emblematic of how exciting town-and-gown collaborations can be and of how they can make a real difference in Evanston
Evanston, IL (PRWEB) March 09, 2013
At this innovative, fast-paced workshop, students will bring their knowledge of strategy, marketing and operations, the entrepreneurs will bring their experience, challenges, and new ideas – then together they will work to refine and articulate the path each business can follow to achieve its next level of success.
Once their work is done, the teams will present to a broader network of local food entrepreneurs, asking for assistance in addressing key strategic questions. The networking session to follow will allow the teams to engage with the broader food community, telling their story and soliciting help to push their business ideas forward.
According to Nell Funk of Now We're Cookin', "we hope this afternoon will meld the best academic thinking around entrepreneurship with the real-world experience of hard-working entrepreneurs – providing both students and business owners an important learning opportunity."
This event – which engages local business owners, Northwestern University, and the broader Evanston community – "is emblematic of how exciting town-and-gown collaborations can be and of how they can make a real difference in Evanston" noted Linda Darragh, executive director of the Kellogg Innovation and Entrepreneurship Initiative.
Now We're Cookin' is a culinary center offering a commercial kitchen and related support for small food businesses, as well as a state-of-the-art demonstration kitchen for private events and hands on or demonstration cooking classes.