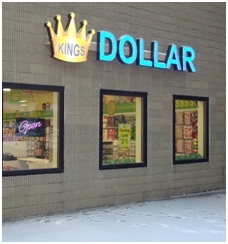 ...where everything is just a dollar.
Rosedale, MD (PRWEB) March 08, 2013
Kings Dollar is a new retail business with a wide assortment of items from essentials to accessories. The value, variety and quality products includes toys for all ages, kitchen and bathroom items, stationary supplies and everything the local residence could need. The store is located at 9508 Philadelphia Road, Rosedale, Maryland. The mixture of products carried at Kings Dollar is expected to bring more business to the area while providing an affordable place for the community to shop.
This new store is stocked with all of the traditional dollar store items plus a selection of unique merchandise that store owner, Steven Smith, enthusiastically exclaims "…where everything is just a dollar." In addition, thanks to the expansive wholesale supply network, Kings Dollar is able to offer merchandise of a much higher quality than would normally be available for only a dollar. Categories include baby items and baby toys, balloons, batteries, candles, cleaning supplies, crafts, food items, frames, hardware, hair accessories, health and beauty products, houseware, jewelry, paper products, party supplies, pet care items, toys for all ages, office supplies, and much more.
Steven contacted Discount Retail Store Services to help develop the business; he said that Discount Retail Store Services is "…the best! Knowledgable, friendly and helpful…I couldn't ask for more…" Discount Retail Store Services is the largest developer of independent dollar stores in the world and assists entrepreneurs in securing financing, locating a site, negotiating a lease, business and operations training, store build out, the largest network of suppliers and the lowest price structure in the industry, marketing and advertising support, and support for the life of the business.
Discount Retail Store Services has helped entrepreneurs open nearly 3,000 stores around the world and is an independent non-franchise business development firm. They specialize in turn-key business setup for those who want to start a business of their own; their exclusive key-services process includes all essential core elements to opening a new enterprise, plus training and ongoing support for the life of the business. Discount Retail Store Services offers clients business models including dollar stores, clothing stores, party stores, teen stores, mail box stores, and fitness centers. Entrepreneurs can get news about Discount Retail Store Services from their website, or on Facebook, Twitter, and YouTube.