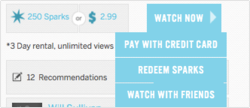 "We created a 'virtual living room' for watching independent movies with others," said Emily Best, CEO, Seed&Spark.
Austin, TX (PRWEB) March 08, 2013
Seed&Spark, the world's first crowd-funding and digital distribution platform made just for independent film, rolled out new social viewing and following features during SXSW® 2013. More than 2,000 Seed&Spark users can now follow their friends on Seed&Spark and invite them to watch a movie from the Cinema section of the site.
"I don't know about you, but I rarely trust my own taste. I know which friends I call when I want a great movie recommendation or when I want to talk about a film that really left an impression on me. Now I can follow those friends and get notified when they recommend something, or I can invite them to watch something with me, all online," says Emily Best, Founder and CEO, Seed&Spark. "Seed&Spark users can explore new movies through their friends or with their friends.In short, we created a 'virtual living room' for watching independent movies with others."
Emphasizing the power of community-building for independent film audiences through social media and gamification, the Seed&Spark site launched last year with a range of social features. It offers community pages for movie project updates, the ability to follow projects, filmmakers and other Seed&Spark users, and to share films with friends across multiple channels, including Twitter, Facebook, LinkedIn, Tumblr and Pinterest. Members are rewarded for their community activities through Sparks, a bonus point system. Sparks can then be redeemed to watch movies in Seed&Spark Cinema.
Watch Movies Together with Friends Online
With the new "Social Viewing" feature Seed&Spark users can invite up to two friends or followers to watch a Seed&Spark Cinema movie together. Invitees have 72 hours from the time they are invited to pool their Sparks together and thereby share the cost for watching a movie together, on different devices, at different locations. Users can choose the amount of Sparks they want to contribute. This allows for the users to either split the cost of the movie evenly or have one or two users invite another user(s) to watch a movie. Seed&Spark users can also invite friends who have not registered on the site yet. Those new users automatically get 50 Sparks when joining Seed&Spark that can be contributed to the Social Viewing.
Discover New Movies through Followers
To encourage interaction between users, Seed&Spark introduced a new "Following" feature. It allows registered Seed&Spark users to follow others and in turn be followed on the site. For every time a user is followed, they will receive two sparks. Once following someone, the user will be notified when the person they are following watches a film from the Seed&Spark Cinema or supports a film in the Seed&Spark Studio. This allows users, through their followers, to discover new projects and films that they might be interested in.
Meet Seed&Spark at SXSW 2013
Meet the Seed&Spark team at the SXSW® Trade Show at Stand 826 from March 8- 17th, in Austin, TX. The team will demo the Seed&Spark site with newly launched social viewing features.
Emily Best, Founder and CEO of Seed&Spark will be speaking at the 2013 SXSW® Film Startup Alley's Meet the Insiders session: Filmmaker Entrepreneurs, on March 10, 2013 from 12:30 PM – 1:30PM and on the topic of DIY: How Crowdsourcing Has Saved Independent Film on March 9, 2013, 2:00 PM – 3:00 PM.
About Seed&Spark
Seed&Spark is building a truly independent filmmaking community where filmmakers and audiences come together for crowd-funding, production, and streaming distribution. Every time an audience member supports the making of a moving picture project (funding, following, sharing) they earn "Sparks" which can be redeemed to watch movies on the streaming platform.
Supporting films lets you watch more films: It's the new ecosystem for filmmakers & audiences, and…that's it! For more information, go to http://www.seedandspark.com and http://www.facebook.com/seedandspark, or follow us on Twitter at @seedandspark.
For more information about Seed&Spark, watch a short video, shot and produced ultra indie-style by the Seed&Spark team.