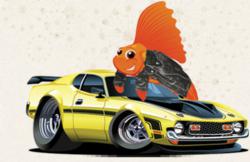 [This country] has been through some intense misfortunes and difficulties over the past years, but I am proud to be here and I'm proud that we are making a comeback.
New York, NY (PRWEB) March 08, 2013
RoadFish.com men's lifestyle and finance magazine today issued their observations regarding a recent Bloomberg article highlighting the positive results that are likely to unfold due to a sharp escalation in consumer credit use in the U.S. RoadFish.com shared their thoughts on the affect this trend will have on the job market, and offered advice to consumers on how to use credit wisely during this upsurge.
Shobhana Chandra of Bloomberg.com, a news leader when it comes to finance, world and national economy, recently reported that data from the Federal Reserve reveals that Americans are more willing and able to borrow from banks, and that lenders are more eager to hand out loans as well. Chandra states that this exchange indicates a mutual confidence in the U.S.'s economic outlook, and acts as a supporting catalyst for job growth in the U.S. as consumer spending and business investments rise. According to UBS Securities LLC, payrolls are expected to jump from 181,000 per month in 2012 to 200,000 per month this year.
RoadFish.com enthusiastically commends Americans for pulling through the dark economic times the U.S. has seen over the past several years, and provides encouragement for the current economic outlook. RoadFish.com's Senior staff writer is quoted as saying, "[This country] has been through some intense misfortunes and difficulties over the past years, but I am proud to be here and I'm proud that we are making a comeback. To break down the implications of this rise in credit use, it means that Americans are bolstering up auto companies, furniture companies, real estate companies and so on which will in turn up the demand for employees. Not only that, but I bet there's a good amount of people out there taking out loans to open up new businesses, now that the economic tide has seemingly turned—yet another way that new jobs will be opening up. It seems funny that to make money, we need to spend money as a nation, but that's sort of what it comes down to."
The above-mentioned Bloomberg article includes a quote from Sam Coffin, an economist for the company who is given credit for being the second best at forecasting the employment rate for the past two years, UBS out of Stamford, CT. Coffin is quoted as saying, "There's a continuing loosening of credit standards, and more importantly, demand for credit is up. All that is good for growth and jobs."
RoadFish.com is quick to caution consumers that just because credit standards are loosening does not mean it's okay to let one's personal credit report and score fall by the wayside. RoadFish.com's Senior staff writer is quoted as saying, "Think about it. If credit is becoming easier to obtain, then you'll want to have the best credit you can because it'll award you the best interest rates out there. Sure, you could mosey in with some half-assed credit score, and probably get a loan for this, that, or the other. But if you could walk in with your head held high, and a grand looking credit score to boot, you could work the system by taking advantage of the best and lowest interest rates available. This can lower monthly costs to you, and save you big bucks over the life of the loan. If you're sitting there wondering what your creditscore looks like these days, pop online now to check—and more importantly, check your report, which is the means by which you can tidy up your score."
Chandra's article states that with industries booming in the U.S., job growth and an economic rebound are both highly likely. Chandra reports that cars and certain trucks sold at a 15.3 annualized rate for the month of February 2013, which put the number above and beyond economic estimates. GM and Ford predicts that demand for card and trucks will continue to climb, making 2013 the best year for auto sales since 2007. Bill Hampel, the chief economist for the Credit Union National Association in Washington, is quoted as saying, "It's starting to happen. There are people who want to lend, and people who want to borrow. It's been getting stronger in the past six months or so. It just takes time to get away from the level of fear we saw during the crisis."
About RoadFish.com:
RoadFish.com is an online men's lifestyle and finance magazine designed for accomplished, successful men who are continually looking to accomplish their next goal in life. RoadFish.com dishes out advice on ladies, restaurant reviews, trendy men's items, and the best travel websites to book a vacation. In addition, RoadFish.com features financial articles designed to help men with their budgets, credit scores, and how to financially prepare for buying a home. RoadFish.com is owned and operated by Purpose, Inc.