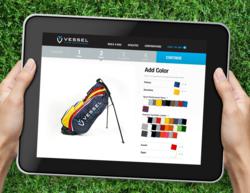 "I've been in the industry for twenty years, and this is by far the best bag I've ever carried."
-- Andrew Dearden, caddy to LPGA player Christel Boeljon
San Diego, CA (PRWEB) March 13, 2013
Vessel is revolutionizing the golf bag industry. With an unprecedented web customizer feature, users can completely customize their own golf bags. From personal logos to corporate sponsors, Vessel allows users the freedom to create one-of-a-kind bags on the interactive site, http://www.vesselbags.com. Users are involved in every element of the bag design; down to the zipper color and bag material. The user - intuitive customizer has audiences creating entirely unique bags from start to finish in a matter of minutes.
Vessel caters to a variety of audiences; everyone from aspiring enthusiasts to professional athletes on tour can create completely customized bags. Corporations can apply their company logo and brand colors to create company bags. Up-and-coming athletes can visually showcase personal branding through uniquely tailored golf bags, just like the professionals use. Vessel has already accumulated an impressive client base of celebrity athletes and professional PGA tour members. Amongst these professionals are Michelle Wie, John Daley, Marshall Faulk, Cristie Kerr, and Wayne Gretzky.
"Very nice and durable... received tons and tons of compliments!"
Nicole Jeray, LPGA player
You can join the ranks of the pros and create your own custom golf bag on the Vessel website, at http://www.vesselbags.com. Design a bag to giveaway at your company's next fundraising event, to showcase at the office, or to keep for yourself. As a special introductory offer, enjoy 15% off your custom bag now through July 31st using code PR15 on the online store.