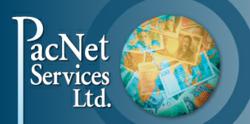 PacNet provides a wide range of both inbound and outbound payment processing services to the short term credit industry
Vancouver, BC (PRWEB) March 11, 2013
PacNet Services, a Vancouver-based company that offers inbound and outbound payment processing services to companies around the globe, will attend Credit Summit 2013, scheduled for March 13, 2013 at the QEII Conference Centre, London. The summit is the UK's largest credit exhibition – showcasing new products and services designed to improve operations.
PacNet's payment experts will be exhibiting on Booth 27, ready to shine the spotlight on their international and domestic payment solutions for online lenders. "PacNet provides a wide range of both inbound and outbound payment processing services to the short term credit industry. Our clients benefit from our decades of experience of working smart within strict regulatory frameworks. Though PacNet, companies can provide loan advances through UK Faster Payments and other locally relevant payment facilities, and accept repayment by debit card and direct debit. There is never any need to deal with the banks at all." states Brian Weekes, VP of Business Development, Europe, for PacNet Services.
In a bid to ensure that each aspect of the credit industry is served at Credit Summit 2013, The Credit Summit this year offers the opportunity to tailor agendas to specific interests within the ever-changing landscape of credit management and provision. With four bespoke conferences running concurrently throughout the day, Credit Summit 2013 is the only industry event catering to the whole industry. Attendees can choose to attend conferences on: Data, Risk and Fraud, Alternative Lending, Trade Credit Conference and Credit & Collections. Each individual conference will cover the regulations specific to that area of practice, debate the merits and pitfalls of industry developments, and discuss innovative case studies demonstrating exemplar operations within each field.
About PacNet Services:
Vancouver based PacNet Services is an international payment processing company that offers a diverse range of both traditional and electronic inbound and outbound payment services for companies around the world. Some of the payment facilities offered by PacNet include credit card processing in multiple currencies, direct debit, EFT, ACH, check processing and bank transfer collection. PacNet also provides international payout services by cheque and EFT for refunds, rebates, commissions and royalties both in major and developing markets.