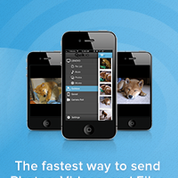 Transfer your full resolution photo and HD video in seconds using QuikIO
Mountain View, CA (PRWEB) March 19, 2013
QuikIO, a new mobile media content delivery application and service, today announced entering QuikIO 2.0 with the addition of QuikBeam. QuikIO users can now send full-resolution photo, videos, and files between iPhones at super high speed. QuikBeam works over Wi-Fi and 3G/4G and achieves peak transferring speed at 30-35M bits/sec when connecting two iPhones over mobile hotspot. Unlike other solutions, there is no limit on file size and file count.
Since launch, QuikIO has become a fast growing application with continuously increasing number of downloads around the world. The popularity among its early adopters helped it to top #1 chart in several countries on Apple AppStore. QuikIO is changing how consumers access their personal contents by empowering them the ability to instant stream, transfer, or share their media collections on their computers through network connections.
"Solutions for file transfer between iPhones traditionally require uploading files to the cloud, thus significantly limit the transferring speed. QuikBeam differentiates itself by utilizing QuikIO's network intelligence to find the best route for connecting the two iPhones" said Michael Chen, QuikIO CEO and co-founder. "With QuikIO's LAN sync technology, QuikBeam eliminates unnecessary cloud upload and achieves up to 10-20 times speed improvements when connecting two iPhones over home/office Wi-Fi or mobile hotspot. In seconds, users can transfer a minute of HD video or tens of full resolution photos - the performance easily rivals the Samsung S Beam on Android phones. QuikBeam is easy to use – just install the QuikIO app and sign in. Unlike Android Beam, there is no special hardware and network configuration required."
The benefits of QuikBeam feature include

Up to 10-20 times transferring speed over existing solutions for iPhone
Option for full-resolution photo transfer
No limit on file size or number of files
Works remotely without requiring proximity between two iPhones
No internet data usage when transferring over home/office Wi-Fi or mobile hotspot
Works over internet connectivity – mobile hotspot, Wi-Fi, and 3G/4G
No special phone configurations or hardware requirements, such as NFC or Wi-Fi direct
The files which can utilize QuikBeam include:

Video and photo in the iPhone Camera Roll
Files previously saved by QuikIO app from your computers
Files previously saved using QuikBeam
Any files from other iPhone apps that allows for "open in" capability
QuikIO continues to offer and improve the best technology available to stream, download and share media content featuring:

Highest quality video available -- minimizing video transcoding
Best CPU utilization -- using the GPU to significantly reduce the CPU load
Seamless remote access -- media traffic is efficiently and securely routed in a peer-to-peer network similar to Skype
Easy-to-use user interface -- Just press and play with all media content displayed in gallery view
QuikSend or Save any video - QuikIO video sharing or downloading is a single step process that is simple, fast and easy; no file conversion necessary
Apple TV -- Just press Apple TV icon to stream video from your iPhone or iPad to a big screen with no restriction on computer's hardware model or OS version
Here's how QuikIO works:
Download and install QuikIO apps to your iPhone, iPod touch, iPad, PC and Mac. Sign in to QuikIO with a Google, Facebook or email account. Then choose videos, music, photos and documents to instantly stream, download or share to an iPhone, iPod touch, and iPad from a mobile device, PC or Mac.
QuikIO's direct connection service avoids long upload waiting time and storage limits often seen with cloud-based services.
With QuikIO it is easy to select files to view when off the grid – commuting, away from home or at the office -- anytime, anywhere. Sharing files with selected friends and family is easy. Just "Quiksend" them an invite to allow them instant access to stream or download a file or media collection, without worrying about file conversion.
QuikIO can be downloaded from the iTunes App Store for the iPhone at https://itunes.apple.com/us/app/quikio/id580764348?ls=1&mt=8 and for the iPad at https://itunes.apple.com/us/app/quikio-hd-free-for-limited/id567840021?ls=1&mt=8. During the initial launch, the QuikIO app will be available for free of charge for a limited time for early adopters after which it will be priced at $2.99 with support for other devices coming soon.
QuikIO videos can be found on the QuikIOInc YouTube channel at http://youtu.be/WjcJhdlVSjU
Graphics for QuikIO can be downloaded at https://www.dropbox.com/sh/fqjjid65mj0mpoc/k4TOyAmoaz
About QuikIO:
QuikIO provides services to meet the demands of mobile device users who want to stream and transfer media contents effortlessly and cost-effectively among their Internet connected devices.
QuikIO will initially support file transfer and streaming from a PC or Mac to any iPad, iPhone and iPod touch with Apple TV capabilities. Plans to include Android-based products are in the works.
The company is founded by Cisco veterans who are expert in media content conversion, networking and wireless technology and is headquartered in Mountain View, CA. For more information, visit http://www.quik.io