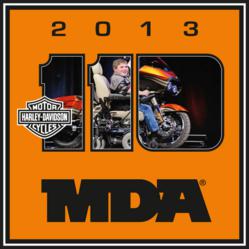 "Harley-Davidson dealers, customers, employees and suppliers are among the most dedicated supporters of MDA," said Mike Kennedy, Harley-Davidson vice president, North America.
Tucson, AZ (PRWEB) March 08, 2013
The Muscular Dystrophy Association is set for the ride of a lifetime as it helps Harley-Davidson celebrate its 110th anniversary this year at epic rides and events that connect motorcycle enthusiasts from around the world — and it all begins at Daytona Bike Week, March 9-16.
Thousands of riders and non-riders alike will help fuel the fight against muscle disease by raising money for MDA's programs of research and health care services, including MDA summer camp, at Harley-Davidson 110th anniversary celebration events around the globe.
Daytona Bike Week will kick off the celebration with custom bike shows, special motorcycle displays, demo rides and daily special events, including the sixth annual MDA Women's Ride.
Riders can also participate in silent and online auctions, as well as the Daytona Bike Week Motorcycle Raffle featuring a one-of-a-kind 2013 Harley-Davidson Street Glide, with proceeds to benefit families served by the Association.
"What better way to kick-start the Harley-Davidson 110th anniversary celebration than at Daytona Bike Week, where motorcycle season begins for a lot of riders," said Scarlett Marchman, MDA vice president of business development. "MDA is excited to be part of the Harley-Davidson extended family celebrating 110 years of chrome and leather in 2013. We're also honored to highlight our 33-year partnership with Harley-Davidson and their commitment to help those affected by muscle disease."
From local dealer events to major national rallies, the Harley-Davidson 110th anniversary consists of 12 events in 11 countries across six continents, and will be capped by two main entertainment-packed celebration events in Milwaukee and Rome, Italy.
The Harley-Davidson 110th Anniversary European Celebration in Rome will feature a party in the Port of Ostia, a parade through the center of Rome and a major concert to wrap up the European events. The top five fundraising riders for MDA will be invited to join the celebration abroad with an all-expenses-paid trip from June 13-16, 2013.
Harley-Davidson fans will complete the year-long festivities on Labor Day weekend at the Milwaukee 110th Anniversary Celebration. Keeping with tradition, the Parade of MDA Heroes will kick off the celebration on Aug. 29, showcasing the generosity of Harley-Davidson riders and their passion for helping to provide independence for children and adults served by MDA.
The 110 riders who have raised the most money for the Association will be invited to ride at the front of the Parade of MDA Heroes. Interested riders can collect pledges and donations for MDA through any local Harley-Davidson dealer or at any H.O.G. ride for MDA nationwide. Participants can also raise pledges online at mdarides.org
The epic event also will feature three headlining concerts, a party on the shore of Lake Michigan, fan-organized rides and much more.
"Harley-Davidson dealers, customers, employees and suppliers are among the most dedicated supporters of MDA, which is why in honor of our 110th anniversary, we want to make 2013 count more than ever," said Mike Kennedy, Harley-Davidson vice president, North America. "Our work with the Association has strengthened our corporate-dealer-customer bond immeasurably. We've met so many wonderful individuals and families served by MDA over the past three decades and they continue to inspire us every day."
Since 1980, Harley-Davidson's family of dealers, customers, employees, suppliers and H.O.G. (Harley Owners Group) chapters has raised more than $84.1 million for MDA. Funds raised during Daytona Bike Week help send MDA kids to weeklong summer camps at no cost to families, and provide vital services and resources to those affected by muscular dystrophy and related diseases.
To learn more about Harley-Davidson 110th Anniversary events that benefit MDA, visit mdarides.org.
About MDA
MDA is the nonprofit health agency dedicated to finding treatments and cures for muscular dystrophy, ALS and related diseases by funding worldwide research. The Association also provides comprehensive health care and support services, advocacy and education.
In addition to funding more than 250 research projects worldwide, MDA maintains a national network of 200 medical clinics; facilitates hundreds of support groups for families affected by neuromuscular diseases; and provides local summer camp opportunities for thousands of youngsters living with progressive muscle diseases.
For more information, visit mda.org and follow MDA on Facebook (facebook.com/MDAnational) and Twitter (@MDAnews).