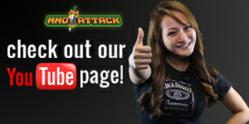 Videos breathe life into the content and provide a way to interact better with our audience.
San Diego, CA (PRWEB) March 12, 2013
MMO Attack, a leading gaming website that focuses on massively multiplayer online role-playing games (MMORPGs), has released a new video series that focuses on top lists in the MMO and MMORPG genre. This new video series aims to give MMO gaming fans a look at some of the top games in the industry in a new and informative way.
The MMO Attack Top 10 series will feature a brand new video each week featuring a different top list as written by the staff at the website. The series will focus on MMO and MMORPG games and the different sub-sections within the genre. The video series is meant to give a fresh and interactive way to consume the content on the website and give the audience a better way to interact with the writers and hosts.
"Video is the wave of the future and more and more people are interested in taking in their information in video form" said Kirk Wallace, MMO Attack's Editor-in-Chief. "We feel that if we can present our content in a video form, they become much more than just a stale pen-and-paper list. Videos breathe life into the content and provide a way to interact better with our audience."
Many of the list articles currently featured on MMO Attack will be performed in this new video format. Currently, the site has released four videos in the series and will continue to release a new top 10 MMO video on a weekly basis. MMO Attack has several weekly video series, like 'Weekly Loot', where the host lists the top news stories in the free to play MMO and MMORPG realm and 'MMOpinion', where the hosts give their thoughts and opinions along with those of the users on their site for various gaming topics.
About MMO Attack
MMO Attack specializes in the delivery of free online MMORPG games. A team of highly skilled writers and gamers that take in-depth looks at MMO and MMORPG games and provide thoughtful and helpful news, reviews, gameplays, videos, commentaries and more. MMO Attack is an innovator in the field and constantly strives to deliver content in new and exciting ways.