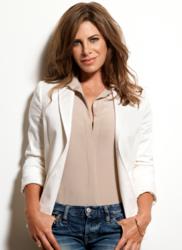 I will give you the skill set, tools and insights to transform any aspect of your life immediately so you realize your true potential, and create the future you've dreamed of and deserve," exclaims Jillian.
Worcester, MA (PRWEB) March 08, 2013
Promising an evening of inspiration that will forever motivate and change lives, America's health and wellness guru Jillian Michaels is set to launch her first ever "Maximize Your Life" tour this spring. Kicking off April 4 in Winnipeg, Manitoba, the tour touches down in 35 cities across the United States and Canada, including The Hanover Theatre for the Performing Arts in Worcester on Tuesday, April 30 at 7:30pm. The tour will wrap up May 21 in Toronto. For more information, please visit JillianMichaels.com.
In this intimate and uniquely personal experience, Jillian shows how to harness your potential, kick-start your goals and live an exceptional life - sharing her keys to health, success and happiness. No hype, no false promises: just results.
"Your health is the platform that your entire life is built upon - from your physical health to your confidence and self-worth, I will give you the skill set, tools and insights to transform any aspect of your life immediately so you realize your true potential, and create the future you've dreamed of and deserve," exclaims Jillian.
Imagine. Believe. Achieve. These three words lay at the core of Jillian's message. In a riveting, two-hour show, Jillian will awaken you to reignite your passion, define your goals and live in your authentic truth. She will teach you how to redefine your self-image, dramatically enhance your confidence and self-worth and blast through all internal and external obstacles.
Finally, Jillian will supply the information and action plan that will empower you to conquer any challenge and achieve every goal. You will learn the science of shedding pounds, the impact of hormones on weight loss and how to bring them back into balance. She demonstrates the how, what and why of workouts, sharing her most effective methods of burning fat and calories. And most importantly, she will teach you how to shift your attitude, behavior, and mindset to maximize your life.
Inspiring and motivating initially thru television, Jillian Michaels has become the world's leading health and wellness expert. She has appeared on 11 seasons of NBC's "The Biggest Loser;" seen in more than 90 countries around the world. As a motivator and role model, Jillian has made a unique connection with her audience, one that stems from her own personal journey.
Before becoming a media sensation, she struggled with her own weight as a teenager. With her empowering information and tools, she now motivates millions through multiple media platforms. Jillian is a New York Times bestselling author, having sold more than 3.5 million books worldwide, including such titles as "Master Your Metabolism" and "Unlimited: How to Build an Exceptional Life." Her newest book "Slim for Life: My Insider Secrets to Simple, Fast, and Lasting Weight Loss" has just been released. In addition, Jillian's DVDs are global bestsellers.
Through extensive charity work, Jillian serves as an ambassador for Stand Up 2 Cancer and the NFL's Play 60. She also works with military families through the USO, and is a champion of the Alliance for a Healthier Generation, a program dedicated to eradicating the childhood obesity epidemic in the United States. In addition, Jillian is a member of the Clinton Global Initiative, working to protect the rights and welfare of children.
Jillian's call to action: "It's time to ask why not you? When are you going to say 'Enough is enough,' and step into the limitless possibility for joy and abundance that your life does hold? If you are a person who feels your health could improve or there is any facet of your life where you feel dissatisfied and unfulfilled, the question is how can you not come to the show?" says Jillian.
Tickets to Jillian Michaels: "Maximize Your Life Tour" are $29, $49, $59, with limited VIP seats at $149. The VIP package includes a seat within the first nine rows, 30 minute Q&A after the show, a 4-week FREE trial to Jillian Michael's Online training program and total weight-loss solution at JillianMichaels.com, and a surprise takeaway item TBD. Tickets are available online at TheHanoverTheatre.org, by phone at 877.571.SHOW (7469), and at The Hanover Theatre box office located at 2 Southbridge Street in downtown Worcester.
About The Hanover Theatre:
The Hanover Theatre for the Performing Arts, located in downtown Worcester, New England's second largest city, is recognized by Pollstar as one of the top 50 theatres in the world. After undergoing many name changes and renovations over the decades since its 1926 birth, The Hanover Theatre reopened in March 2008 following a $32 million historic restoration. Since then, the theatre has established its place as a rich entertainment and cultural venue, winning numerous awards, including The National Trust for Historic Preservation Award in 2010. Now in its fifth season, The Hanover Theatre continues to expose over 170,000 annual patrons to world-class entertainment in the form of Broadway, concerts, comedians and much more. For more information, visit TheHanoverTheatre.org. Worcester Center for the Performing Arts, a registered not-for-profit 501(c)(3) organization, owns and operates The Hanover Theatre for the Performing Arts. All donations are tax deductible to the fullest extent allowed by law.
About Live Nation Entertainment:
Live Nation Entertainment is the world's leading live entertainment and ecommerce company, comprised of four market leaders: Ticketmaster.com, Live Nation Concerts, Artist Nation and Live Nation Network. Ticketmaster.com is the global event ticketing leader and one of the world's top five ecommerce sites, with almost 27 million monthly unique visitors. Live Nation Concerts produces over 22,000 shows annually for more than 2,300 artists globally. Artist Nation is the world's top artist management company, representing over 250 artists. These businesses power Live Nation Network, the leading provider of entertainment marketing solutions, enabling nearly 800 advertisers to tap into the 200 million consumers Live Nation delivers annually through its live event and digital platforms. Additional information http://www.livenation.com/investors.
About Empowered Media
Empowered Media, LLC operates the Jillian Michaels wellness brand. Co-founded by Jillian Michaels and her business partner, Giancarlo Chersich, the company operates as life architects whose sole mission is to inspire individuals to empower themselves to seek healthier, active lives. The products marketed are part of the total life solution platform created by the Jillian Michaels philosophy. America's premier health and wellness coach, Michaels is a New York Times best-selling author, entrepreneur and popular television personality. Michaels is also a passionate advocate, fighting to invoke important changes in all aspects of health and wellness. Michaels' newest book, "Slim for Life: My Insider Secrets to Simple, Fast, and Lasting Weight Loss" is available now wherever books are sold. Additional information JillianMichaels.com.
Tour Press Contacts: Lobeline Communications 310-271-1551
Phil Lobel phil(at)lobeline(dot)com Ext 13 / Jeff Neiman Ext 11 jeff(at)lobeline(dot)com