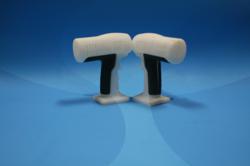 PolyJet Over-Mold is excellent for tactile feedback.
Valencia, CA (PRWEB) March 12, 2013
Valencia, CA, March 12, 2013 - Solid Concepts perceived the need from customers for inexpensive over-molded prototypes that could be built faster than traditional casting methods. Built on Objet's Connex500™ platform, PolyJet Over-Mold incorporates sturdy PolyJet White material with PolyJet Flex Black. By combining PolyJet White and PolyJet Flex Black materials, a range of durometers is achievable. A single build is capable of incorporating Shore Hardness offerings from Shore 27A to Shore 95A. The technology is ready to build as soon as Solid Concepts receives a CAD file, making this process the fastest for over-molded products.
Due to its ability to create fine feature details, PolyJet 3D Printing is best for small parts. The acute details on PolyJet 3D Prints are minutely accurate. Clam shell housings built on PolyJet will perfectly match together—all bosses and seams will meet exactly where they are meant to connect.
PolyJet Over-Mold is excellent for tactile feedback for locating fingerings on products. The elastomeric material portrays and conveys buttons, skins, rubber boots—any piece of equipment requiring elastomeric materials. The accuracy of PolyJet is also ideal for reveals of industrial design features.
Solid Concepts provides rapid prototyping and custom manufacturing services, with capabilities in PolyJet, Stereolithography (SLA), Z-Corp , Selective Laser Sintering (SLS), Direct Metal Laser Sintering (DMLS), Fused Deposition Modeling (FDM), CNC models and patterns, QuantumCast advanced cast urethanes, and Composites. Capabilities in tooling and injection molding make Solid Concepts a one-stop source.