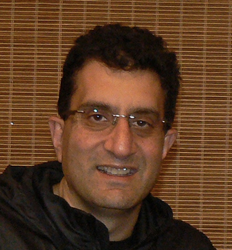 (PRWEB) March 09, 2013
Tariq Drabu dentist and the owner of Langley Dental Practice has this week marked six months since his appointment as oral surgery specialist to the prestigious University of Lancashire (UCLan) Dental Clinic in Preston. The University of Central Lancashire has created a £1.3m state-of-the art dental clinic at its Preston city campus, which is providing much-needed services for local people as well as staff and students. The clinic has four general dental surgeries; an oral surgery suite (two surgeries and recovery room) and a 10-chair training suite and will be fully equipped to meet both treatment and teaching requirements. UCLan is one of the few universities in the country, other than specialist dedicated medical centres, to have such facilities on site.
Tariq Drabu leads the specialist oral surgery services at the UCLan Dental Clinic. He is registered with the General Dental Council as a specialist in Oral Surgery and has responsibility for providing not only treatment to patients but also teaching dentists. Between 2001 and 2009 he was a senior teaching fellow in oral and maxillofacial surgery at Manchester Dental Hospital where he was responsible for the teaching, lecturing and supervision of dentists on the University of Manchester's Masters program in oral and maxillofacial surgery. Currently Tariq Drabu is the clinical Lead for the NHS Heywood, Middleton and Rochdale dental CATS services which since 2010 have been providing specialist oral services out of primary dental practices at Langley Dental Practice, Middleton, Manchester and The Phoenix Centre Heywood.
Tariq Drabu is the owner and managing director at Langley Dental Practice in Middleton, Manchester which provides NHS dentistry for over 12,000 residents of Heywood, Middleton and Rochdale. As a teacher and educator Tariq Drabu has over the past decade taught and mentored over 500 dentists in oral surgery at postgraduate level and has lectured and taught on the subject at regional and national meetings. Last week he announced that he had been selected as a tutor on the Faculty of General Practice Certificate in Minor Oral Surgery course at the Royal College of Surgeons of England in London for the second year in a row.
Speaking about his first six month at at UCLan Tariq Drabu said "It has been a very exciting and progressive six months. We started out in September 2012 from scratch with no patient base. Over these six months we have built up a steady cohort of patients who are coming to see us both from within the University campus and from outside based on our reputation and recommendation. My position as a specialist oral surgeon means that I get to see some of the more advanced, difficult and complicated cases that are either referred from amongst my own colleagues or from outside from fellow practitioners. I am also involved in teaching dentists at postgraduate level who are undertaking the Masters programme in oral surgery at UCLan".
Tariq Drabu added "I have been very excited to be able to work with my first cohort of postgraduates and it has been a very stimulating and interesting experience. They are keen, enthusiastic and very impressed with the high tech, modern teaching facilities that we have here at the clinic. My job is to guide and supervise them whilst they are performing complex cases in oral surgery. I oversee them and am also responsible for their assessment. Teaching and training at this level is so important if we are to create the next generation of specialist practitioners who will take the profession forward."
Tariq Drabu continued "we need to ensure that general dentists are given enough training to allow them to confidently complete minor oral surgery procedures in practice. It is not just completing the cases that is important - it is the ability to assess what they can and cannot manage in terms of treatment that also determines their competence and ability. Knowing ones limitations is an important part of being a caring, competent and reflective practitioner. Whilst many dentists put themselves forward to study implant based hands on courses many of them are not confident in soft and hard tissue management including extractions and surgical removal of roots. The rigours of a Masters programme is a rewarding challenge for those dentists who are seeking to gain experience and a formal university level qualification in oral surgery in practice whilst still being able to continue to work."
Tariq Drabu concluded "in terms of dentistry UCLan is one of the most progressive and forward thinking institutions in the country. The clinic itself is one of the most exciting and groundbreaking dental ventures of the past 12 months. The staff who work there are of the highest quality and well respected in their specialist fields. I am confident that the next six months will see a widening of our patient base and an increase in the uptake of oral surgery services. So far it has been a wonderful first six months and I am looking forward to helping this clinic go from strength to strength."